Harvard University
Wikisimpsons - The Simpsons Wiki
Harvard University
Location Information

Harvard University is a university in Cambridge, Massachusetts.
History
[
edit
]
Lionel Hutz studied at Harvard.[1]
Herb Powell paid his way through Harvard by waiting on tables and scrubbing toilets.[2]
Comic Book Guy has a masters degree in Folklore and Mythology, commonly considered one of the wackiest disciplines at Harvard.[3]
Barney treid to get into Havard.[4]
Jon Vitti studied on Harvard.[5]
Marge imagined Bart receiving his diploma from Harvard.[6]
Otto tried to win a Harvard diploma from a claw machine.[7]
Smithers and Mr. Burns talked about Harvard's rampant cheating at a football game.[8]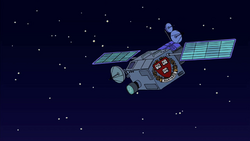 Lisa has dreamed that the president of Harvard wanted to see her at the same time she got a zero on a test. The Harvard president saw the test and told her at Harvard's doors are now closed for her, but he will pass her file along to Brown.[9]
When Lisa commented about Marge's breast endowment she said it is larger than Harvard's.[10]
When Lisa by mistake got an F, she said that she hoped Harvard never found out about it, meanwhile a Harvard satellite was spying on her.[11]
Lisa was wearing a sweater from Harvard University when she played poker.[12]
Appearances
[
edit
]
References
[
edit
]