Mapple
Wikisimpsons - The Simpsons Wiki
"Think differently."
―Mapple's slogan
Mapple Company logo.
Company Information
Mapple is a company founded by Steve Mobbs. It sells Mapple computers and related products and services, and also produces programs for them, such as BookCreate for Mapple computers. Lisa owns several Mapple devices, including a MyPod and a Mapple computer.[1] The company also produces video games.[2] The company has released a number of apps which are available to be downloaded onto their devices.[3]
Description
[
edit
]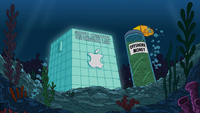 Mapple's headquarters are located under the sea. To visit it, a submarine from the mainland in the shape of a flash drive travels to the bottom of the ocean and is inserted into the side of the HQ. The cost of the travel is added to the user's MyBill. From the HQ, Steve Mobbs broadcasts an announcement to Mapple customers, which was fed into a video feed at the Mapple Store at the Springfield Mall. The Springfield Mall feed was possibly later destroyed due to a side of the Springfield Mall Mapple store being shattered by Comic Book Guy.[4] It is unknown whether there are video feeds in other Mapple stores.
The company logo is an apple that has two bites missing from it. The company slogan, as seen on its posters, is "Think Differently". However, when Lisa Simpson visited Steve Mobbs to ask for a reduced payment plan on her MyBill, Mobbs informed her that the real slogan was "No Refunds".[4] In some advertising signage, the slogan reads "Think different".[5]
Mapple owns and operates the Mapple Stores, which are retail shops that sell Mapple's products and services. The stores can be found in a wide variety of locations, including the Springfield Mall and the Towne Centre at Springfielde Glenne.
Products and services
[
edit
]
Mapple's products and services include the following:
Steve Mobbs currently appears in a video as 'speaking beyond the grave' when a customer first turns on their Mapple device. Homer Simpson won a MyPad at a silent auction at Springfield Elementary School.[3]
Products
[
edit
]
| Image | Product | Features |
| --- | --- | --- |
| | MyPod | Music and video downloads |
| | MyPhone | Music, video, and app downloads |
| | MyPhonies | None (fake earbuds). |
| | MyCube | Music downloads. |
| | MyPad | Music, video, and app downloads. |
| | Computers (such as touchscreens and Mapple Lisa) | |
| | Laptops (such as Mapple Void) | |
| | Mapple Radio | Radio and internet access |
| | Mapple TV | |
Services
[
edit
]
MyTunes has an extensive collection of music which can be downloaded onto devices such as MyPods and MyPads. However, there is a charge of 99 cents per song.[4]
Controversy
[
edit
]
The Springfield store was severely damaged by customer Comic Book Guy after Bart Simpson dubbed over Steve Mobbs' video feed, making the customers believe that the company was selling the MyPhones for $500 even though they cost only few dollars to make and that he peed on every one. This eventually caused an uproar in the crowd. Comic Book Guy got a sledgehammer and then, sobbing and calling Mobbs a traitor, charged the video screen and threw the hammer into it, shattering the entire glass wall. This controversy was quickly resolved, however, when Lisa Simpson ratted Bart out for his prank, which made everyone chase him out of the mall.[4]
Adverts
[
edit
]


Mapple advertises itself in many ways, including posters on the street. One poster is on the street where Moe's Tavern is located, and Bart Simpson and Milhouse Van Houten have subjected it to vandalism (altering Mapple's "Think Different" slogan to read "Stink Different").
At the Expensive Electronic Entertainment Expo, Mapple had a stall. On the stall were touch-screen gadgets, and underneath the company motto. It is unknown if Mapple had any games at the convention; the company's name was not seen on any game stalls. However, there were some games that did not have the company's name seen; they could have been Mapple's. The stall at the E4 convention may have been a way for Mapple to advertise itself.
Behind the Laughter
[
edit
]
Mapple, its logo, its CEO and its product line are a parody of Apple.
Appearances
[
edit
]
This list includes Mapple's products.
Gallery
[
edit
]
References
[
edit
]