Santa's Village
Wikisimpsons - The Simpsons Wiki
Santa's Village
Location Information

Santa's Village is a Christmas-themed amusement park in Springfield. Despite that, the park is open all year. Santa's Village boast real-life reindeer as its main attraction. It is closed on Christmas.
History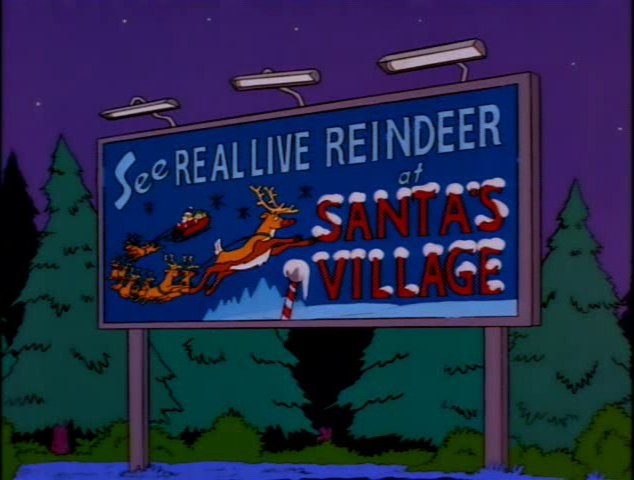 The Estonian Dwarf works as an elf at the park.[1]
After Homer quit working forcing his family to take him to a place he never be bothered his family again. Homer was scary at it could be to the Mental Institution, Slaughter House, and Santa's Village before he understand it was to the The Rolling Stones' Rock N' Roll Fantasy Camp.[2]
When "Homer" owed the "Mafia" money they filmed "Lemony Lickit's a Series of Horny Events" in his house and got tickets from "Moe" because he knows a guy who turns the dead sleigh horses into Jerky and sells them to bars. Homer sent "Marge", "Bart" and "Lisa" .At Santa's Village because it's August the reindeer were hot and uncomfterable. When Bart talked to a Santa he was reading Tom Clancy's Op Center and said "Well Santa got some bad medical news". Later he was in an ambulance and Bart asked why did they pull the blanket all the way up to his head. Marge, Bart and Lisa met a Frosty the Snowman actor who lost his hat. On the way back Lisa had a rash where the reindeer licked her. [3]
Non-canon
| | |
| --- | --- |
| | The contents of this article or section are considered to be non-canon and therefore may not have actually happened or existed. |
The Simpsons: Tapped Out
This section is transcluded from The Simpsons: Tapped Out Christmas buildings. To edit it, please edit the transcluded page.

Santa's Village
Image
Cost
Build time
Reward
Sell price
Conformity increase
Availability
Unique?
Dimensions -

D

x

W

200
6s
200
Santa Homer (25)
N/A
Christmas 2012 and 2013
Premium
12 x 10
80
Winter 2014 and 2016
Premium
50
A Rigellian Christmas Promo and The Invasion Before Christmas
Premium (Winter Wonderland Mystery Box; Santa Skin Bundle)
60
A Simpsons Christmas Special
Premium (Winter Wonderland Mystery Box; Santa Skin Bundle)
Task
Time
Reward
/h
/h
Feeding Reindeer
12h
300, 30
25
2.5
Appearances
References
| | |
| --- | --- |
| | This article relating to a Simpsons location is a stub. You can help Wikisimpsons by embiggening it. |
---