Fudd Beer
Wikisimpsons - The Simpsons Wiki
Fudd Beer
Food/Drink Information
Fudd Beer is the most popular beer in Shelbyville[1] and in Spittle County.[2] It is the chief competitor of Duff Beer.
History
[
edit
]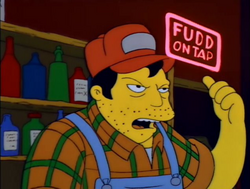 Homer
first tried Fudd when he visited
The Beer -N- Brawl
in Spittle County (the bar where he discovered
Lurleen Lumpkin
). Homer first asked for a Duff, but settled for a Fudd when the bartender told him that was all the bar served. When Homer later tried to order a Fudd at
Moe's Tavern
,
Moe
said he thought Fudd had been banned "after all those hillbillies went blind".
[2]
Fudd is also sold at many locations in Shelbyville, including the Speed-E-Mart convenience store.[1]
Fudd Beer has a variant called "Fudd Dry".[2]
Behind the Laughter
[
edit
]
Fudd Beer is an obvious play on Duff Beer, being intentionally spelled with the consonants swapped.
Appearances
[
edit
]
References
[
edit
]