The Simpsons: Tapped Out Tap Ball and Soccer Cup 2015 content update
Wikisimpsons - The Simpsons Wiki
092
"Tap Ball and Soccer Cup 2015"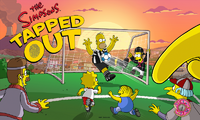 "Homer Simpson has introduced a sport so dangerous, so wild, so confusing that it could only exist in the digital sphere.
Put together and train a team of sporty Springfielders and challenge your neighbors to games of Tap Ball, where the only rule is that there is a never ending list of rules (because Homer keeps making them up!)
With new buildings, characters, decorations, and quest lines, it's GAME ON in Springfield!"
―Event description on the App Store

The Simpsons: Tapped Out Tap Ball and Soccer Cup 2015 content update was released on June 23, 2015.
The event is split in 3 acts. Act 1 started June 23, Act 2 started July 13, Act 3 started July 21. Soccer Cup 2015 is active from June 25 to July 21. Takedown started July 21.
The event is split into three acts, akin to how Treehouse of Horror XXV was split into three.
Act 1
Soccer Cup 2015
Act 2
Act 3
Trailer
Item origins
Item or Building
Episode
Referee Homer
"Marge Gamer", "You Don't Have to Live Like a Referee"
Soccer Lisa
"Marge Gamer"
Athlete Ned, Alley Mcballs
"Four Regrettings and a Funeral"
Pin Pal Apu, Duff Blimp, Boxing Drederick Tatum, Soccer Net, Flags
Recurring
Football Nelson
"Bart Star", "There Will Be Buds"
Baseball Jasper
"Marge and Homer Turn a Couple Play"
Softball Mr Burns
"Homer at the Bat"
Jockey Bart, Furious D
"Saddlesore Galactica"
Springy
"The Old Man and the "C" Student"
Tennis Marge, Tennis Court
"Tennis the Menace"
Kung Fu Comic Book Guy
"Lisa the Drama Queen"
Toreador Grampa
"Million-Dollar Abie", "Looking for Mr. Goodbart" (couch gag, referenced)
Ballet Ralph
"Last Tap Dance in Springfield"
Strongman Homer
Treehouse of Horror XXIV - "Freaks, No Geeks"
Gymnastic Lisa, Balance Beam
"Little Girl in the Big Ten"
Gorgeous Grampa, Gorgeous Grampa Billboard
"Gorgeous Grampa"
Fit™ Milhouse
"The Yellow Badge of Cowardge"
Springfield Arms
"Worst Episode Ever", "Helter Shelter", "Half-Decent Proposal"
The Gridiron
"Judge Me Tender"
Testosterzone
"The Daughter Also Rises"
Sportacus
"Bart Star", "She of Little Faith" (Logo seen in church)
Simpson Laser Tag
"That '90s Show"
Basketball Stadium
"The Burns and the Bees"
Blocko Store
"The D'oh-cial Network"
Taste of Duff Beer Truck
"MyPods and Boomsticks"
Low Blow Boxing
"Moe Letter Blues"
Homerclese Statue
"Selma's Choice"
Boxing Ring
"Moaning Lisa" (videogame), "Homer vs. Lisa and the 8th Commandment" (a boxing ring), "The Homer They Fall"
Oscar's Obstacles Truck
"Yellow Subterfuge"
Duff Racer
"Moonshine River"
Duff-Barney Blimp
"A Tree Grows in Springfield"
Duff Party Bus
"The City of New York vs. Homer Simpson", "A Tree Grows in Springfield"
Excellence Prize Statue
"To Cur, with Love"
Murderhorn
"King of the Hill"
Stadium Lights
"There Will Be Buds", "Girls Just Shauna Have Fun"
Obstacle Tires, Obstacle Wall, Obstacle Wire, Obstacle Log
"The Secret War of Lisa Simpson"
Football Uprights
"Bart Star", "There Will Be Buds", "Girls Just Shauna Have Fun"
Grass Field, Single Bleachers
"Girls Just Shauna Have Fun"
Stadium Entrance, Double Bleachers, Triple Bleachers,
Stadium Fence, Bowling Setup Machine, Football Tire Target,
Homertron, T-Ball Stand, Tennis Machine
The Simpsons: Tapped Out exclusive