The Simpsons: Tapped Out Forgotten Anniversary content update
Wikisimpsons - The Simpsons Wiki
149
"Forgotten Anniversary"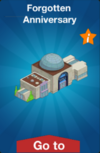 "The tide of evil has receded and our heroes and villains can finally hang up cape, cowl, and spandex undies. With life returning to normal, what's next for your town? A random set of summer sports? An invasion by doppelgangers from another dimension? The arrival of a brand-new outlet mall? Only Time will tell! Sorry, I meant Tim, the guy we pay to write this stuff."
―Old update description on app stores.
"The documents were swapped, the messages decoded, and the world was saved (well most of it)! Now it's time to put away the shoe phones, pen blow darts, watch cameras, and other mail-order gadgets, and get back to civilian life in Springfield. But what could be next for your town? A face-paint focused collegiate experience? A temporal trip? A quicky wedding? Stay tuned for more characters, buildings and stories coming soon!"
―Update description on app stores.
The Simpsons: Tapped Out Forgotten Anniversary content update was released on May 24, 2017, and is the one hundred and forty-ninth content update. The update ended on May 30. It added 3 new buildings and 1 decoration. It's a preview to the Time Traveling Toaster event that started on May 30, 2017.
Buildings
[
edit
]
Returning
[
edit
]
Decorations
[
edit
]
| Image | Name | Cost | Notes |
| --- | --- | --- | --- |
| | Homer's Workbench | Free | Unlocks after starting The Time Traveler's Wife Pt. 2. |
Returning
[
edit
]
| Image | Name | Content | Cost |
| --- | --- | --- | --- |
| | Heavenly Hills Mall | 60 | Heavenly Hills Mall, Heavenly Hills West Wing and Heavenly Hills East Wing |
Item origins
[
edit
]
Gameplay
[
edit
]
The Time Traveler's Wife Pt. 2
[
edit
]
After the user logs in on May 24th:
Hey look! There's a new fat, bald loser in town. What's your name, you obvious idiot?
I'm you, Homer, from the future! I come with a warning of utmost importance!
Alright, pal, keep my pants on. What's the ruckus? And why the orange skin?
Never mind that. You will soon forget your anniversary, but it is imperative that you not travel back in time to fix it.
Why not just warn me to remember my anniversary?
Yeah, that makes way more sense! Man, I used to be SMART.
I'll make an anniversary gift for Marge. That way, it's free. All it costs is my time, which is completely worthless.
Task: Build Homer's Workbench
I will not rest until I've made the most amazing, heart-warming gift an anniversary has ever seen.
Man, planning to make something is hard work.
I think I'll take a rest.
Quest reward: 100 and 10
Burnt Toast
[
edit
]
After the user logs in on May 29th:
I feel like I'm forgetting something. Ah well. I'm sure if it was important, some me would have warned me about it.
Conform-o-meter impact
[
edit
]
Building or Item
Rating
Points
Heavenly Hills West Wing, Heavenly Hills East Wing, One Week Wonder Films
Consumerism
10
Heavenly Hills Mall
20
Polo Field House
Vanity
10
Homer's Workbench
100
Krusty's Mansion
300
Mansion of Solid Gold
2.000
Statue of Burns
Vanity
Bonus $ and XP
500
2.25%
Other changes made
[
edit
]
May 24th Update ("4_26_Forgotten_Anniversary")
[
edit
]
Sources
[
edit
]
Overview at Tapped Out - Update Information