The Simpsons: Tapped Out Friend Points content update
Wikisimpsons - The Simpsons Wiki
This article or section is incomplete.


Please improve the article, or discuss the issue on the talk page.

The forty-third content update, known as the "Friend Points update" for The Simpsons: Tapped Out was released in February 26, 2014 and it introduced the friend points system to the game. After this update, players now have the ability to visit their friends to send them Friend Points. The player can give their points to each friend every 24 hours. If the player scribbles on their screen, they can give Friend Points while cleaning up a friend's town.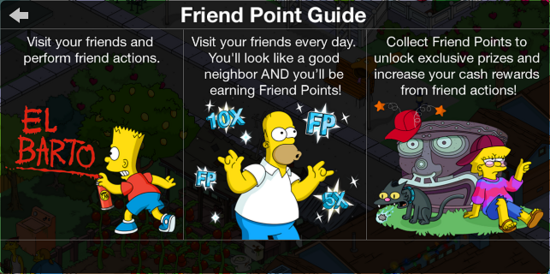 Friends Points
| Object | Friend Points |
| --- | --- |
| 1-30 | 10 |
| 31-60 | 5 |
| 61-90 | 4 |
| 91-120 | 2 |
| 121-300 | 1 |
Prizes
Image
Name
Costs
Level required
Olmec Head
1,000
Friendship Level 1
Singing Sirloin
2,000
Friendship Level 2
Snowball II
1,500
Friendship Level 3
Homer's Car
2,000
Friendship Level 4
Stampy
5,000
Friendship Level 5
After the player has pass level 5 it will tripple the money they collecting from their friends.
Characters
Buildings
| Image | Name | Costs | Unlock message | Level required |
| --- | --- | --- | --- | --- |
| | Singing Sirloin | 2,000 | | Friendship Level 2 |
Decorations
| Image | Name | Costs | Unlock message | Level required |
| --- | --- | --- | --- | --- |
| | Olmec Head | 1,000 | | Friendship Level 1 |
| | Homer's Car | 2,000 | | Friendship Level 4 |
Gameplay
After player has visited a friend and collected their first Friend Point
Mhoyvin! I see you've found my newest invention -- the "Frink Point"!
You'll get one every time you interact with something in other Springfields. When the tapping and the reading and the waiting too long for loading.
What's in it for me?
I'm glad you asked, my good man! Science has learned that interacting with our humans improves your quality of life, it may, in fact, extend your life.
That's nice, but I'd really rather get some kind of imaginary prize or doodad for doing stuff.
*sigh* Doodads, always with the doodads.
Message
You can now collect Friend Points from your friends and unlock new prizes!
Actually, they're called FRINK points. F-R-I-N-K. Sometimes people mis her-me 'cause of my Hoy-vin accent.
Actually, "Friend Points" has a nice ring yo it, let's call it that.
But I'm the inventor, and you're just some guy. So I think we both know who gets to name the points.
Message
Collect Friend Points today!
Olmec Head
After placing Olmec Head
Hey it's... that thing! I missed ignoring that.
Homer's Car
After placing Homer's Car
Well it took you long enough, all this walking can't be good for my health.
Now, I just have to wait for my keys to unlock.
The Singing Sirloin
After tapping on Homer's exclamation mark
The Singin Sirloin is offering free steak to anyone who'll sing a couple of songs on stage.
What?! Really? I can sing!
Although I've never really tried, and I have a weird voice, and no sense of pitch.

But I assume I'm great.

Plus there's free steak. Steak and people admiring me. I'll be like Donald Trump except people will like me!
The player receives "The Singing Sirlon" which is to "Make Moe Sing at the Singing Sirlon". It takes 3 hours and the player receives 100 and 10 in reward.
So, Moe. How'd it go?
Not so good. Apparently, I'm even more repellent when I sing. Something about not being able to block me out by closing their eyes.
Stampy
Pachyderm Piggyback
After tapping on Bart's exclamation mark
Whoa ho ho! I can't believe Stampy is here!
Well, when you blow up a town, you tend to blow up the wildlife reservations within it.
Who's a good elephant? Wanna go for walkie!
The player receives "Pachyderm Piggyback" which is to "Make Stampy Carry Bart". It takes 12 hours.