The Simpsons: Tapped Out A Classless Reunion content update
Wikisimpsons - The Simpsons Wiki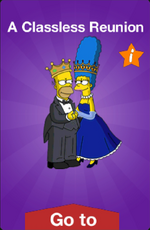 The Simpsons: Tapped Out A Classless Reunion is the one hundred and eighty-third content update, and was released on March 13, 2019 and ended on March 26th, 2019. It is based on the season 2 episode "The Way We Was" and the season 13 episode "Half-Decent Proposal". The event requires Level 20 to start. It added 1 new character skin and 4 new decorations.
Characters
[
edit
]
Returning
[
edit
]
| Image | Name | Unlock image | Notes |
| --- | --- | --- | --- |
| | Teenage Homer | | Unlocks after completing A Classless Reunion Pt. 5 if not already owned. |
| | Young Barney | | Unlocks with Ice Fishing Shack. |
| | Young Artie Ziff | | Unlocks with Marge Sculpture Garden. |
| | Young Marge | | Unlocks with Roller Rink. |
Character Skin
[
edit
]
| Image | Name | Unlock image | Notes |
| --- | --- | --- | --- |
| | Prom Time Homer | | Unlocks after completing A Classless Reunion Pt. 5. |
Buildings
[
edit
]
Returning
[
edit
]
Image
Name
Cost
Build time
Task
Notes
Springfield University
25
6s
Indenturing Students for Life
Roller Rink
Keeping Disco On Life Support
Unlocks with Prom Photo Booth Bundles.
Unlocks Young Marge.
Decorations
[
edit
]
Returning
[
edit
]
Image
Name
Cost
Notes
Tongue-Kiss Point
55
Marge Sculpture Garden
Unlocks with Prom Photo Booth Bundles.
Unlocks Young Artie Ziff.
Ice Fishing Shack
Unlocks with Prom Photo Booth Bundles.
Unlocks Young Barney.
Consumable
[
edit
]
Image
Name
Possible Content
Cost
Screen
Yearbook Mystery Box
Contrary to previous Mystery Boxes, due to over 700 items in the pool, the content is split in 5 each time and the user
can hit the Refresh button to refresh the content shown and possible prizes. An item will always stay in the same column each time.
Once the event ended, the box can be accessed in the Premium category of the store and is permanent.
30
To view the list of possible prizes, click "show":
Acid Pools, Acorn Kirk, Adil Hoxha, African Tree Resort w/Kitenge, Ajax Steel Mill w/Roscoe, Akira w/The Happy Sumo, Alcatraaaz's Mansion w/Alcatraaaz, All American Apu, All Seeing Eye, Alley McBalls, Ambulance, Ancient Burial Ground, Ancient Ruins, Animatronic Bears, Annual Gift Man, Apu's Apartment w/Manjula, Apu's Apocalypse Jeep, Aqua World Bundle (Aqua World Fishing Platform, Aqua World Fuel Tank, Aqua World Main Guard Tower, Aqua World Prison Tower and Aqua World Wharf), Arc de Triomphe, Ark of the Stonecovenant, Arnie Pye, Asia de Cuba, Astronaut Barney, Atlantis, Atomic Bomb (Premium), Attack Helicopter, Auxillary Agency HQ, Aztec Theatre, Baby Gerald, Bad Dream House w/The Raven, Bagpipe Bus, Balance Beam w/Gymnastic Lisa, Banana Dictatorship, Bandit Fort, Bare Chested Willie, Barney's Bowlarama w/Barney, Barracks, Bart Balloon, Bartman Cave, Basketball Court, Basketball Game, Basketball Stadium, Battle Dome, Battling Seizure Robot, BBQ Pig, Beach Hideaway, Beach House, Bear Cave, Beer-N-Brawl w/Lurleen, Beer Stein Wiggum, Best Snowman Ever, Big Bug House, Big Butt Skinner Balloon, Bigclaw, Big Digi-Ben, Black Leather Plane, Black Magic Hall, Blackbeard, Blarney Castle, Blasting Bass, Blocko Store, Blue Knight Nerd, Blue Rogue Nerd, Blue Warrior Nerd, Blue-Haired Lawyer, Boardwalk Fountain, Bob Clones Bundle (Bob Clone, Short Bob Clone and Tall Bob Clone), Bob's Victorian House, Bonestorm Santa, Bookaccino's, Box of Fireworks, Boxing Ring, Brandine (unlocks Birthday, Whitney and Dubya), Brick Townhomes w/Manacek, Brother Faith Van w/Brother Faith, Brutus, Buckingham Palace, Buckingham Pay-Less Motel, Bumblebee Man, Burns Coffin w/Count Burns, Burns Limo, Burns State Prison, Caesar's Pow-Wow Casino w/Tribal Chief, Café Kafka, Caged Tom Turkey, Camera Hat Homer, Camping Tent, Candy Apple Island, Candy Kevin, Captain Bob, Capital City Capitol Building w/Rose Quimby, Carbon Rod Monument, Carnival Float w/Xoxchitla, Cartoon Motel w/Ms. Mouse, Cartoon Set w/Scratchy, Cat Bus, Catapult, Cauldron w/Marge The Witch, Cayman Island Banker, Cemetery Plot w/Gravedigger Billy, Chateau Maison, Cheddarbarrel Combine, Chest of Sacred Artifacts, Chester w/Unfinished Shed, Chez Guevara, Chimp Refuge w/Joan Bushwell, Chinese Acrobatic Theatre, Chinese Junk, Chinese Restaurant, Chippy, Chirpy Boy & Bart Junior, Chocolate Chapel, Chopper Ride, Christmas Tree Ralph, Circle of Death w/Meathook, Classified Records w/L.T. Smash, Claus Co., Clobber Girl, Coat of Foxes Krusty, Colosseum, Column Mansion, Coolsville w/Milo, Community Center w/Jasper, Concert Hall w/Mozart, CONRAD w/Quinn Hopper, Cool Brown House w/Cool Homer, Costington's w/Mr. Costington, Cozy Hammock, Country Flag Bundle (Australia Flag, Brazil Flag, Cameroon Flag, Canada Flag, China Flag, Colombia Flag, Costa Rica Flag, Ecuador Flag, England Flag, France Flag, Germany Flag, Ireland Flag, Italy Flag, Ivory Coast Flag, Japan Flag, Mexico Flag, Netherlands Flag, New Zealand Flag, Nigeria Flag, Norway Flag, Russia Flag, Scotland Flag, South Korea Flag, Spain Flag, Sweden Flag, Switzerland Flag, Thailand Flag, United Kingdom Flag, United States Flag and Wales Flag), Cracker Factory w/Luann, Crap Silo w/Plopper, Crazy Cat House w/Crazy Cat Lady, Crazy Plane, Cremo Bot, Cristo of Springfield, Crouching Panda, Hidden Egg Roll, Curvaceous Cave w/Cavegirl Booberella and Booberella, Curvaceous Cave w/Cavegirl Booberella, Cyborg Snake, Cypress Creek Elementary, Cypress Creek Home, Cypress Creek Sign, Dancing Reindeer, Dead Lobster, Death Mountain w/Dr. Colossus, Death To Homer Missile, Department of Magical Vehicles, Der Krazy Kraut w/Becky, Deuce's Caboose Chili Dogs, Devil Flanders, Devil Float, Disco Zombie, DMV Limo, Dodgeball Court w/Erik, Donut Boat, Donut Store, Donut Torture Device, Donut Truck, Dr. Lenny's Lab, Dr. Nick, Dragon Bundle (Red Dragon, White Dragon and Yellow Dragon), Drive-In Theater w/Space Mutant, Drone, Duff Racer, Duff Blimp, Duff Center Arena, Duff Gardens w/Lizard Queen Lisa, Duff McShark Tank, Duff Party Bus, Duff Party Liner, Duff Stadium, Duff Statue of Liberty, Duff Brewery w/Duffman, Duff Brewery w/Duffman, Lady Duff and Mexican Duffman, Duff-Barney Blimp, Dunking Device, Easter Island God, Ebenezer Burns, EFCOT Center, Egg Nog Bar, Egyptian Playground, Eisenhower's 4x4 w/Dwight D. Eisenhower, Elder Blimp, Electric Car Bundle (Blue Electric Car, Red Electric Car and Yellow Electric Car), Elf Home, Elf Hotel, Elixir Mixer, Elysium Project, Enriched Learning Center w/Leopold, E.P.A. Hoverjet, ESBN Sports Desk w/Anger Watkins, Eski-Moe's, Evil Shop Keeper Bundle (Evil Shopkeeper, House of Evil and Talking Krusty Doll), Exotic Petting Zoo, Eyeballs of Death, Egyptian Tent, Fairy Kodos, Fake Toll Booth, Fancy Farms, Fantastical Beastarium, Father Sean, Fatov, Femme Fatale, Ferris Wheel, Festive Light Plunger, Fever Cabin, Fiddler, Fiesta Terrace w/Jacques, Filthy Angels Orphanage w/Ronaldo, Fire Eater, Fireman Apu, Fireman Homer, Fireworks Barge, Fireworks, Candy & Puppies, First Bank of Springfield, First Church of Lard Lad, Five Alarm Chili, Five Corners, Flanders' Frozen Car, Florence of Arabia w/Princess Kashmir, Football Nelson, Football Tire Target, Football Uprights, Forgotten Grave w/Frank Grimes, Formless Terror, Fort Sensible, Fortress of Lonelitude, Fortune Megastore w/Arthur, Freakmobile, Freedom, French Waiter, Frink's Lab w/Professor Frink, Frinkosonic MHV, Frink's Mechano Spider, Frink's Robot Dog, Frink-thetic Egg Generator Mk I, Frink-thetic Egg Generator Mk II, Frosty the Hitman, Fruit Bat Man, Funzo Bundle (Blue Funzo, Pink Funzo and Purple Funzo), Future Monument, Future-Proofed Home, Gabbo and Arthur, Garbage Truck, Ghost Zapper, Giant Burning Goat, Giant Ferris Wheel, Giant Grasshopper, Giant Lobster Scorpion, Giant Outdoor Fireplace, Ghost Pirate Airship w/Blackbeard, Giant Robot, Giant Screamapillar, Giant Snow Globe, Giant Takeout Box, Gingerbread House w/Suzanne the Witch, Gingerbread Mansion, Giuseppe's Workshop w/Giuseppe, Globex Compound, Gold Records on Walls Studio, Golden Calf Idol, Golf Course, Gone Fission, Gorgeous Grampa, Gorgeous Grampa Billboard, Great Wall Tower, Grub Shack, Guitar Central, Gypsy Fortune Teller Shop w/Maude, Hairy Shearers w/Julio, Half-Pipe, Hammock District, Handsome Pete, Hangar 18, Hangman Cage, Hans Moleman, Havana Private Home, Health Spa, Heavenly Swing Set w/Jesus, Heimlich Machine, Hellementary School, Helter Shelter, Powell Motors w/Herb Powell, Himeji Castle, Hi-Glow Waste Barrels, Holiday Tree, Springfield Historical Society w/Hollis Hurlbut, Home of Tomorrow, Homer Dog, Homerclese Statue, Homer's Ballet, Hooch City, Hootenanny Barn w/Luke Stetson, Hot Air Balloon, Hot Springs, Hot Squishee Station, Hot Tub, House on Scary Hill, Hover-Copter, Howard's Flowers, Hugs Bunny, I Choo-Choo Choose You Train, Ice Cream Truck w/Ice Cream Man Homer, Ice Palace, Ice Sculpture Couch Gag Scene, Imaginary Bear, Improvised Snare, Incubator Think Tank, Inflatable Gorilla and Baboons, IRS Drone, It's A Wonderful Knife w/Gino Underdunk Terwilliger, Italian Villa w/Francesca Terwilliger, Itchy & Scratchy Billboard, Itchy & Scratchy Bot, Itchy Balloon, Itchy Mascot, Itchy's 70's Disco w/Tina Ballerina, Itchy's Mine Field, Jay G Bundle (Jay G's Mansion w/Jay G and Goosius and Jay G's Pool), Jazzy Goodtime's, Jesse Grass, Jet Engine Bike, Jewish Heaven, Jimbo, Juggler, Juvenile Correction Facility w/Jeremy Jailbird, King-Size Homer Bundle (Work From Home Station w/King-Size Homer), K9 Officer, Kamp Krusty w/Kamp Bart, Kane Manor, Kearney, Kearney's Other Son, King Homer's Skyscraper, King Snorky, King Winter's Cave w/King Winter, Knifey Spooney w/Crocky Waters, Knightboat, Kodos, Krusty Fountain, Krusty's Mansion, Krusty's Drive-Thru Station (includes 4 Straight Track Pieces, 2 Curved Track Pieces, 2 Short Track Pieces and 2 S Curve Pieces)), Krustylu Studios w/Sideshow Mel, Krusty's Kristmas on Ice, Kwik-E-Mart Central Office, La Belle Frottage, Land Octopus Pen, Lard Lad Donuts, Le Krusty Burger, Left-handed Roadster, Life-Sized Spruce Moose, Limo, Lincoln's Cabin w/Abraham Lincoln, Ling Bouvier, Lisa Lionheart, Lisa Statue of Liberty, Little Helper Ralph, Little Lady Justice, Little Lisa's Recycling Plant, Lobster Island, Lotto 'N' Liquor w/Dewey Largo, Lovejoy Residence w/Jessica Lovejoy, Luftwaffles, Lugash's Gym w/Lugash, Macaroni's Shed, Madame Chao's w/Mindy, Magic Academy Library w/Angelica Button, Magic Palace, Magic Station, Maison Derriere w/Belle, Malibu Stacy Headquarters w/Stacy, Manger w/J. Rigellian Christ, Mansion of Solid Gold, Mapple Store, Mars Colony, Marvin Monroe's Tombstone, Praiseland Statue, Mausoleum + Zombie (Mausoleum w/Senile Zombie), Mayan Bundle (Mayan Calendar w/Mayan God, Mayan Homer and Mayan Marge), Mechanical Ants (Mechanical Ant Alpha, Mechanical Ant Beta, Mechanical Ant Gamma, Mechanical Ant Delta), Mess Hall, Mexican Duffman Bundle (Duff Brewery w/Duffman, Lady Duff and Mexican Duffman), Mexican Duffman Bundle (Mexican Duffman and Lady Duff), Milhouse's Trailer, Mime, Miniature Nuclear Warhead, Model Donut, Moe's House, Mojo Helper Monkey, Money Pool, Monorail Cafe, Moog, Motherloving Sugar Co. w/Dia-Betty, Mount Carlmore, "Mr. Plow", Mr. Sparkle Billboard, Mr. Sparkle, Mt. Krustmore, Murderhorn, Murderpuss, Museum of Swordfish, Mutant Peacock, Mutant Rabbit, National Bank of Springfield, Nativity Scene, Natural Faberge Egg, Nickel 'N' Dime Animation w/Jeremy, Nighthawk Diner w/Rex Banner, Nightmare Pile, Nightmare Willie, Ninja Homer Practice Snake w/Ninja Homer, Norbert's Plane w/Norbert, North Pole Station, Not a Laser Shark Pool, Number 111, Number 12, Number 14, Number 2, Number 21, Number 22, Number 29, Number 314, Number 5, Number 50, Number 51, Number 59, Number 67, Number 79, Number 85, Oasis, Oktoberfest Gate, Old Faithless, Old Gray Mare, Old Mine, Old Simpson Farm, Old Tree Spirit, Old West Sign, One Plate Maximum Buffet, One Week Wonder Films, Open Air Stage, Opera House, Opera Krusty, Oscar's Obstacles Truck, Outlands Factory, Outland Sign w/Mountain Man, Pagan Bonfire, Park Engineer, Patches and Poor Violet, Peacock Lounge, Peek-At-Em Park, Pet Cemetery, Pet Mutant Plant, Pet Mutant Seedling, Pharaoh Throne w/Pharaoh Skinner, Phineas Q. Butterfat's, Pie Man Epic Statue, Pies and Explosives Pile, Pies for Guns Booth, Piece-of-crap Car, Piggly's Super Smorg w/Mrs. Bouvier, Pig of Paradise Pen, Pin Pals Bundle (Pin Pal Burns and Pin Pal Moe), Pinkbeardy Yogurt, Pinwheel Firework, Pirate Kang, Pirate Prison, Plane Bot, Planet Hype, Plastic Prison, Plastic Surgery Center, Plato's Republic Casino w/Johnny Tightlips, Plow King, Pokey, Police Car, Police Tank, Polo Field House, Pompeii Ruins, Pont du Gard, Poppa Wheelie's w/Ramrod, Portal to Rigel 7, Powell Mansion, Powell Motors w/Herb Powell, Powers House w/Laura Powers, Pow-Wow's Casino Sign, Prairie Maggie, Prehistoric Jungle, Preppers' Compound w/Lloyd, Presidential Estate, Pride of Ulster Banner (as Northern Irish Leprechaun), Pride of Ulster Banner w/Northern Irish Leprechaun, Princess, Pro Shop w/Space Coyote, Prospector, Pumpkin House, Puritan Flanders, Quick & Fresh, Quicksand, Quimborghini, Quitters, Radiant B.S. Station, Radioactive Man Billboard, Radioactive Man and Radioactive Man Statue (Radioactive Man Statue and Radioactive Man), Radioactive Man Movie Scene w/Sidekick Milhouse, Radioactive Milhouse, Radstation Air Fortress, Rancho Relaxo w/Don Vittorio, Raoul's Penthouse w/Raoul, Raptor, Ray Gun, Ray Patterson, Recycle Fort Bundle (Recycled Gates, 5 Recycled Towers and 20 Recycled Walls), Red Knight Nerd, Red Rogue Nerd, Red Warrior Nerd, Refrigeratorium w/Ice Bishop of Beverly Hills, Re-Neducation Center, Republican Party HQ, Retro Lard Lad w/Laird Ladd, Rigellian Queen, Rio-Days-Inn-Ero, Robby the Automaton, Robot, Rocket Car w/Lampwick, Rocket to Your Doom, Roger Meyers Story, Sconewall Bakery w/Rollerskate Smithers, Rolling Rock, Rommelwood Barracks, Ronald Reagan Reeducation Center w/Ronald Reagan, Rotating Religious Holo-Statue, Royal Tokyo, Rubber Baby Buggy Bumpers w/Lucille Botzcowski, Russ Cargill, Sacagawea Lisa, Santa Flanders, Santa's Little Helper, Santa's Plane Sled, Santa's Village, Santa's Workshop, Satan's Anvil, Satellite Station, Saxophone Lisa, Scandal-gate Hotel w/Richard Nixon, Scary Dock w/Blinky Monster, School Bus w/Otto, Scratchy Mascot, Self-Reliant House, Señor Ding Dong's Doorbell Fiesta w/Señor Ding Dong, Señor Ding Dong's Doorbell Fiesta Van, Sepulcher of Evil, Sequel Stop, Serfsons House w/Azzlan, Sha-Boom Ka-Boom Cafe, Shadow Knight's Throne w/Shadow Knight, Shapes w/Muscular Marge, Shary Bobbins, Shauna, She-She Lounge, Sherri and Terri, Shinning Hotel Bundle (Shinning Hotel and The Shinning Maze), Shiva, Shiva Statue, Shorty's, Sidekick Milhouse, Simpson Houseboat, Simpson Laser Tag, Ski Chalet, Ski Lift w/Stupid Sexy Flanders,Slaghold, Sleep-Eazy Motel w/Miss Springfield, Santa's Little Helper Topiary, Slide Factory, Smooches on the Beach, Snake Eating Rudolph, Sneed's Feed & Seed, Snow Monster, Snowman Bundle (Marge Snowman, Lisa Snowman, Grampa Snowman and Ice Sculpture Couch Gag Scene), Snub Club, Snuggler's Cove, Sophie Krustofsky, Soul Extraction Institute w/Robo Burns and Doggy Smithers, Southern Cracker Fountain, Space Shuttle Simulator, Sportacus, Spotlight Dance Bot, Sprawl-Mart, Springfield Aquarium w/Sarah Wiggum, Springfield Animal Shelter, Springfield Asylum, Springfield Bowl, Springfield Cemetery, Springfield Clamphitheater, Springfield Coliseum w/Drederick Tatum, Springfield Falls, Springfield Farmers Market, Springfielde Glenne Condos, Springfield Gorge, Springfield Greenhouse, Springfield Hunting Supplies w/Grant Connor, Springfield Hyperstadium w/Rockstar Maggie, Springfield Museum w/Molloy, Springfield Museum of Natural History, Springfield National Park w/Teddy Roosevelt, Springfield Observatory, Springfield of Tomorrow Sign, Springfield Opry House w/Mary Spuckler, Springfield Pet Shop w/Jub-Jub, Springfield Preparatory School w/Greta Wolfcastle, Springfield Shopper w/Dave Shutton, Springfield Sign, Springfield Skating Rink, Springfield YMCA w/Coach Krupt, Springy, Spruce Caboose, St. Paul's Basilica w/Pope, Swanky Fish, Squawky, Squeaky Voice Teen, Squirrel Luann, Stack of Beer, Stacy's Dream House, Stampy Balloon, Star Spawn, Statue of Burns, STEM Conference Hotel w/Brendan Beiderbecke, Stiletto Sculpture, Stone of Triumph, Stonecutter Lodge w/Number 1 and Number 908, Stonecutter Table, Stonecutter Tunnel, Stoner's Pot Palace, Street Cleaner, Strongman Homer, Stunt Bike, Sugarloaf Mountain, Sumatran Century Flower, Sungazer Tour Bus w/Freddy Freeman and Shredder Stevens, Super Collider, Swelldorado, Tailgate, Taste of Duff Beer Truck, Tar Pits w/Petroleus Rex, Taylor House w/Allison Taylor, Teleportation Bundle (Teleporter Alpha, Teleporter Omega, Teleporter Zeta and Teleporter Theta), Temple Beth Springfield w/Rabbi Krustofsky, Tennis Court, Tennis Machine, T.G.I. McScratchy's, The Castle of Equalia w/Queen Helvetica, The Collider, The Egg Council Guy, The Fracker, The Grand Pumpkin, The Gridiron, The Grumple, The Homer, The Hungry Hun w/Uter, The Island of Dr. Hibbert, The League of Extra-Horny Gentlemen, The Mayflower, The Nag and Weasel w/Guy Incognito, The Paralyzer, The Peak Inn w/Lyla, The Rad-ish Station, The Rich Texan, The Scout Master, The Stable at the Inn, The Wiccans, The Yes Guy, Witch, Three-Eyed Whale, Time Traveler's Bundle (Dilophosaurus, Pharaoh Guard and Plague Rats), Tire Fire, Tourist Bundle (Tourist 1, Tourist 2 and Tourist 3), Tower of Babel, Town Square, Training Plane, Treasure Chest, Truckasaurus, Try N Save, Tunnel of Love, Turkey Stuffer*, Turn Your Head and Coif, Tuxedo Krusty, Twirl 'N' Hurl, Two-nicorn, T-Ball Stand, U.F.P., Ultrahouse 2, Unoriginal Log Ride, Up, Up and Buffet!, UPA Talent Agency w/June, Uriah's Heap Recycling Center w/Hippie, U.S. Capitol Building, USS Tom Clancy, Valentine's Pond, Vehicle Pileup, Vesuvius Pizza, Vicious Monkeys, Victorian UFO, Victor's Secret, Wailing Wall, Walking Kwik-E-Mart, Water Show Fountain, Waterslide Tree, Waverly Hills Elementary School, Welcome Bob Sign, Welcome to Springfield Sign, Westminster Abbey, Whack-A-Mole, Whacking Day Bundle (Lumpy, Snake Speakers, Snake Rocks, Hollow Snake Trunk, Snake Stump, Green Practice Snake, Purple Practice Snake, Red Practice Snake and Yellow Practice Snake), Whale, White Witch Burns, Wholesome & Sons Publishing, WWII Tank, Wild West Film Set w/Buck McCoy, Wildlife Sanctuary, Willie's Tractor, Wilted Rose, Wizard Martin, Woodstock, Wooly Bully, Wooly Mammoth Pen, Work From Home Station, Worldwide Broadcast Dish, Worm Train w/Yo Yo, X-Ray Truck, Yard Work Simulator w/C.H.U.M., Ye Olde Cherry Tree w/George Washington, Ye Olde Off-Ramp Inn w/Amber Dempsey, Yellow Submersible, Zip Zap and 'Za w/Wendell Borton, Zombie, Zombie Sandwich, Zutroy
Bundles
[
edit
]
Image
Name
Content
Cost
Prom Photo Booth Bundle 2
Prom Photo Booth and Roller Rink w/Teenage Marge
150
Prom Photo Booth Bundle 3
Prom Photo Booth, Marge Sculpture Garden w/Teenage Artie Ziff
Prom Photo Booth Bundle 4
Prom Photo Booth, Ice Fishing Shack w/Teenage Barney
Prom Photo Booth Bundle 5
Prom Photo Booth w/Marge Sculpture Garden w/Teenage Artie Ziff and Ice Fishing Shack w/Teenage Barney
200
Prom Photo Booth Bundle 6
Prom Photo Booth, Roller Rink and Teenage Marge and Marge Sculpture Garden w/Teenage Artie Ziff
Prom Photo Booth Bundle 7
Prom Photo Booth, Roller Rink w/Teenage Marge and Marge Sculpture Garden w/Teenage Artie Ziff
Prom Photo Booth Bundle 1
Prom Photo Booth, Marge Sculpture Garden w/Teenage Artie Ziff, Ice Fishing Shack w/Teenage Barney and Roller Rink w/Teenage Marge
300
Gameplay
[
edit
]
| Image | Name | Unlock |
| --- | --- | --- |
| | Reunion Limo | A Classless Reunion Pt. 1 |
| | PaZIFFic Princess | A Classless Reunion Pt. 2 |
| | Reunion Dance Floor | A Classless Reunion Pt. 3 |
| | Marge's "Dance the Night Away" Animated Job | A Classless Reunion Pt. 4 |
| | Teenage Homer and Prom Time Homer | A Classless Reunion Pt. 5 |
Conform-o-meter impact
[
edit
]
Name
Rating
Points
PaZIFFic Princess, Reunion Dance Floor, Reunion Limo
Vanity
100
Springfield University
200
Golden Goose Realty
Consumerism
20
Promo Phone Booth
Vanity
Bonus $ and XP
200
2.5%
Other changes made
[
edit
]
March 12th Update ("4_37_ClasslessReunion")
[
edit
]
Sir Putt-A-Lot's and Shotgun Pete's can be unlocked at any level during the event.
Lyne Lanley now disappears correctly on finishing the quest Same As It Ever Was.
A bug with Sky Finger Monument not working properly was fixed.
March 14th Update (4.37.6; "4_37_ClasslessReunion_Patch1")
[
edit
]
Dates for the Golden Goose Realty in the event were removed.
The Yearbook Mystery Box's store icon had its end date removed, making it permanent, as there's no end date in the files.
March 26th Update ("4_37_ClasslessReunion_Patch2")
[
edit
]
Pride of Ulster Banner, Ghost Pirate Airship, Work from Home Station and Atomic Bomb can no longer obtainable in the Yearbook Mystery Box if already owned (for Atomic Bomb no matter if premium or not).
If Blackbeard is owned, but the Ghost Pirate Airship isn't, the game will now award the Ghost Pirate Airship.
Little Helper Ralph's Jam the Assembly Line and Get Wrapped Up can now be done at Brown House too.
Sources
[
edit
]
Overview at Tapped Out - Update Information