The Simpsons: Tapped Out Treehouse of Horror XXIX Teaser content update
Wikisimpsons - The Simpsons Wiki
174
"Treehouse of Horror XXIX Teaser"
"Exotic, experimental, and just plain wrong animals are all tucked away in their exhibits, and the townsfolk are finally safe to leave their garbage out unattended once again. But what's next for your town? Seriously, what's next? We've got nothing. Maybe something with... the census? Oh geeze. Why? Why did we get so many margaritas last night? For Bill's birthday? Bill sucks! Wait, are you writing that down? Stay tuned for new characters, buildings and stories coming soon!"
―Update description on app store.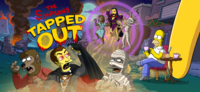 The Simpsons: Tapped Out Treehouse of Horror XXIX Teaser is the one hundred and seventy-fourth content update, and was released on September 26, 2018. It's a teaser for the upcoming Treehouse of Horror XXIX event. The update ended on October 3, 2018 at 2pm GMT. It added 1 new character and 1 new building.
Characters
[
edit
]
Buildings
[
edit
]
| Image | Name | Cost | Build time | Task | Notes |
| --- | --- | --- | --- | --- | --- |
| | Fortune Teller Tent | FREE | 4h | Steal Fortunes From Fortune Cookies | Unlocks after starting Fortune Favors the Bald Pt. 1. |
Item origins
[
edit
]
Gameplay
[
edit
]
Conform-o-meter impact
[
edit
]
| Name | Rating | Points |
| --- | --- | --- |
| Fortune Teller Tent | Consumerism | 10 |
Other changes made
[
edit
]
Gypsy Fortune Teller Shop, if facing south, shows just the Fortune Teller's icon and other random images from the town, and it can't be selected as a whole anymore, however, there is a one square spot in the lower left hand corner of where it should be, that once selected you can do the usual options.
September 27th Update (Server Update)
[
edit
]
Fortune Favors the Bald Pt. 2 to 5 now autostart if you don't have Fortune Teller.
Due to the way they fixed the questline, stored characters' questline restarted.
Sources
[
edit
]
Overview at Tapped Out - Update Information