The Simpsons: Tapped Out "Moonshine River" episode tie-in content update
Wikisimpsons - The Simpsons Wiki
002
""Moonshine River" episode tie-in"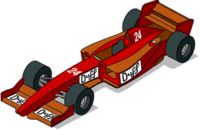 The second content update was released on September 28, 2012, and was the first overall episode tie-in update to The Simpsons: Tapped Out. The Duff Racer was the only thing added to the game; it was added to celebrate the Season 24 premiere "Moonshine River" on September 30, 2012.
Gameplay
[
edit
]
Notice
Here's a Duff Racer from the Springfield Grand Prix to celebrate the Season 24 premiere this Sunday!
The player then receives the quest "The Simpsons 24 Season Gift", which is to "Place the Duff Racer". The Duff Racer is free.
Place
Ooh, a racecar. I want to drive it!
Sorry Dad, but it doesn't drive. It's just a decoration.
Can I open the Redesign Menu and move it around with my finger so it looks like it's driving?
I guess.
Woo-hoo!
Decorations
[
edit
]
See also
[
edit
]