Homer Scissorhands/Gags
Wikisimpsons - The Simpsons Wiki
Title screen gag
[
edit
]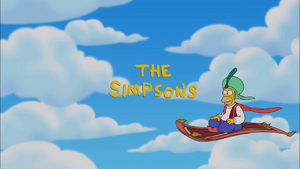 Homer flies by on a flying carpet.
Billboard gag
[
edit
]
Chalkboard gag
[
edit
]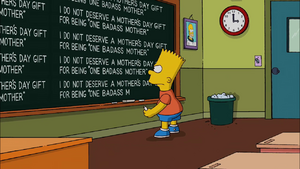 I do not deserve a Mother's Day gift for being "one badass mother"
Couch gag
[
edit
]
Smithsonian Museum couch gag
Couch Gag Information
The couch is in the Smithsonian Museum. The Simpsons sneak in (with Marge making a bigger hole in the glass after looking at Homer) and sneak through the museum, pretending to be janitors, mummies and camouflaging themselves against a painting. They then get to the couch to find it is protected by lasers. After spraying them to reveal them, they find holes exactly the same shape as themselves and fit through them and sit on the couch.
Behind the Laughter
[
edit
]
There are a few cultural references in this couch gag.
Appearances
[
edit
]
---