Nedward Flanders, Sr.
Wikisimpsons - The Simpsons Wiki
For the other Nedward Flanders, see Nedward Flanders (Flanders' Book of Faith).
Nedsel "Daddio" Flanders,[1] also known as Nedward Flanders, Sr.[2][3][4] is the beatnik father of Ned Flanders and Nediana Flanders, the husband of Capri Flanders and the paternal grandfather of Rod and Todd Flanders.
History
[
edit
]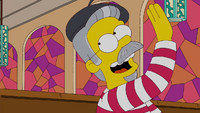 He and his wife brought Ned to Dr. Foster when they found that he was difficult to control.[5]
He possibly served during World War II, since Abraham Simpson once referred to a "Commander Flanders", when scolding Private Charles Montgomery Burns.[6]
Flanders once said "Homer, you met my parents" (to which Homer replied, "Not naked I haven't", as he was naked at the time).[7] Nedward and his wife were later seen attending Ned Flanders and Edna Krabappel's wedding as the only guests aside from Rod and Todd.[8] They also appeared visiting their son at his house, where they seemed to favor Homer's presence over Ned's.[9]
Non-canon
[
edit
]
| | |
| --- | --- |
| | The contents of this article or section are considered to be non-canon and therefore may not have actually happened or existed. |
The Simpsons: Tapped Out
[
edit
]
This section is transcluded from The Simpsons: Tapped Out characters/Flanders Family. To edit it, please edit the transcluded page.

Permanent Tasks
Task
Time
Reward
Requires
Quest with the task
Animated?
Go Skating
10m
26, 7
Simpsons' Skating Rink
Re-Process Reality
60m
105, 26
The Java Server or
CBGB
Jive-irino Pt. 1
Overpay for Sex on the Beach
4h
260, 70
Smooches on the Beach
Stay at the Swelldorado
4h
260, 70
Swelldorado
Try to Win at Blackjack
4h
260, 70
$ Casino
Drink and Babysit
4h
260, 70
The Boiled Potato
Do an Interpretive Jive
4h
260, 70
Jive-irino Pt. 5
Attend Parenting Seminars
4h
260, 70
Universal Panacea
Dance the Señor Burns
8h
420, 105
Chez Guevara
Bust Up His Bongos
8h
420, 105
CBGB
Jive-irino Pt. 2
Do Open Mic Night
12h
1,200, 300
CBGB
Capri Flanders
Watch TV Without Paying Attention
12h
600, 150
Flanders House or
Home Visitable
Enjoy a Night at the Theater
12h
600, 150
Springfield Playhouse
Deflect His Son's Questions
24h
1,000, 225
Flanders House
Appearances
[
edit
]
References
[
edit
]