Manacek
Wikisimpsons - The Simpsons Wiki

Manacek is a suave Polish-American freelance insurance investigator.
History
[
edit
]
Manacek was called in after the painting The Poetess was stolen between being sold at Gavelby's Auction House and arriving at Megan Matheson's house. Chief Wiggum wasn't happy since he was being brought in rather than him being allowed to solve the case. Manacek then went to visit Megan Matheson and questioned her about it, finding out that she had insured the painting for double the cost. Manacek then flirted with Megan, telling her he could give her a "better workout".
Manacek then went to visit Mr. Burns, who was also a suspect in the case. Manacek found out that Burns couldn't stand being outbid by a woman, which hit a nerve with Burns. Mr. Burns then told Manacek that Homer took the painting, so Manacek went to visit Homer at the Nuclear Power Plant.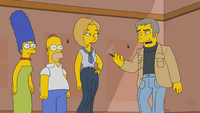 At the Power Plant, Manacek revealed that he knew Homer was obsessed with the painting, which he found out from Lenny. Homer told Manacek that he was obsessed with the painting and he would do anything to have it. Manacek thought there was more to Homer's story and he was going to figure it out. That night, Marge visited Manacek to try and convince Manacek that Homer was innocent. Manacek told Marge that she could convince him over dinner, so Marge brought him to her house to have dinner with the family, which annoyed Manacek.
Marge told Manacek that Homer was quick to panic, which is why he was cowering away from Manacek. When Manacek was hitting on Marge, Bart and Lisa told him to back off. Bart then told Manacek the story of how Homer became obsessed with the painting. Marge told Manacek that Homer just couldn't stop thinking about the painting. Manacek thought there was issues with the story as Homer didn't seem like the kind of person who would be interested in art.
Whilst the family were telling Manacek the story, Homer fled from the house. Manacek then told Marge that once he sent Homer to prison, she'd be "kind of single". After Marge told Manacek that Homer could not have stolen the painting, Manacek figured out who the thief was. He then went to the Springfield Museum of Fine Arts where he knew Homer would be. He told Homer that he knew he was innocent as Homer was too dumb to steal the painting. Manacek then assembled all the suspects and interested parties to the museum where he revealed to everyone that Megan Matheson stole the painting. He knocked out Megan after she pulled a gun on him and then revealed that this was actually a fake painting, as Mr. Burns had stolen the real painting. He then knocked Burns out after he pulled a gun on him.
Manacek then found the painting at Burns' manor, only to reveal that it was also a fake, it was actually Lisa's gift shop tote bag. Lisa then gave the painting back after Manacek told everyone that it went back to the city. At the Springfield Arena Football Arena, Manacek asked Marge if he would have a shot if things were different and Marge slapped him.
At some point after all this, Manacek filed his invoice for $1,500,000 with the city. He also hung out with Bart for a bit, had a wrestling match with Cletus, helped arrest Professor Frink, had a date with Miss Hoover, attended a Sex Addicts Anonymous session, won an award for Polish-American Man of the Year, visited a salon with Agnes Skinner and an old lady, got handed a baby that looked like him by a woman, had a fencing match with Sideshow Mel and attended a DJ concert with Homer Simpson and DJ Daddy Towers.[1]
Manacek attended the launch event for The Drederick where he was seen running out of the burning building.[2] He later attended a night cruise[3] and was part of the Facts Body Spray trivia team at Moe's Tavern.[4]
Personality
[
edit
]
Manacek is a stereotypical 70s detective. He is chauvinistic and thinks of himself as a ladies man, flirting with pretty much every woman he comes across. He doesn't seem to take rejection as a no and will continue to flirt with women. Manacek himself acknowledged this and said that he can only solve impossible crimes if he's seducing an amazing woman.
Non-canon
[
edit
]
| | |
| --- | --- |
| | The contents of this article or section are considered to be non-canon and therefore may not have actually happened or existed. |
The Simpsons: Tapped Out
[
edit
]
This section is transcluded from The Simpsons: Tapped Out characters/Homer is Where the Art Isn't. To edit it, please edit the transcluded page.

Permanent Tasks
Task
Time
Reward
Requires
Quest with the task
Animated?
Go Skating
10m
26, 7
Simpsons' Skating Rink
Lounge Around
60m
105, 26
Brick Townhomes
Take a Stroll
4h
260, 70
Glum-Shoe Pt. 1
Glum-Shoe Pt. 2
Overpay for Sex on the Beach
4h
260, 70
Smooches on the Beach
Stay at the Swelldorado
4h
260, 70
Swelldorado
Try to Win at Blackjack
4h
260, 70
$ Casino
Drink and Babysit
4h
260, 70
The Boiled Potato
Attend Parenting Seminars
4h
260, 70
Universal Panacea
Look in a Panic
8h
420, 105
Glum-Shoe Pt. 4
Dance the Señor Burns
8h
420, 105
Chez Guevara
Solve a Crime of Passion
12h
600, 150
Brick Townhomes
Preen and Groom
24h
1,000, 225
Brick Townhomes
Behind the Laughter
[
edit
]
Manacek is a parody of Thomas Banacek from the American detective TV series Banacek.
Appearances
[
edit
]
References
[
edit
]