Expensive Electronic Entertainment Expo
Wikisimpsons - The Simpsons Wiki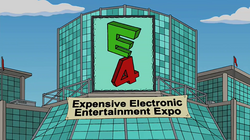 The Expensive Electronic Entertainment Expo, otherwise shortened to E4, is a video game convention. Homer, Bart and Lisa attend it.
Known games
[
edit
]
Non-canon
[
edit
]
| | |
| --- | --- |
| | The contents of this article or section are considered to be non-canon and therefore may not have actually happened or existed. |
The Simpsons: Tapped Out
[
edit
]
This section is transcluded from The Simpsons: Tapped Out buildings/Entertainment buildings. To edit it, please edit the transcluded page.

E4 Convention Center
Image
Cost
Build time
Reward
Sell price
Conformity increase
Availability
Unique?
Dimensions -

D

x

W

FREE
6s
N/A
Consumerism +10
Game of Games
E4 No Access Pass Pt. 1
10 x 10
75
Northward Bound and The Atom Smasher
Premium (Cyber Mystery Box)
90
Hell on Wheels
Premium
Task
Time
Reward
/h
/h
Giving Away Free Deodorant to Attendees
8h
150, 13
18.75
1.625
Behind the Laughter
[
edit
]
Appearances
[
edit
]