Nedward Flanders, Sr.
Wikisimpsons - The Simpsons Wiki
<!–-INFOLINKS_ON-–>
For the other Nedward Flanders, see Nedward Flanders (Flanders' Book of Faith).
Nedward Flanders, Sr.
Character Information

Nedsel "Daddio" Flanders,[1] also known as Nedward Flanders, Sr.[2][3][4] is the beatnik father of Ned Flanders and Nediana Flanders, the husband of Mona Flanders and the paternal grandfather of Rod and Todd Flanders
History
[
edit
]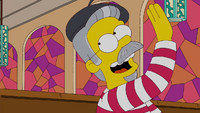 He and his wife brought Ned to Dr. Foster when they found that he was difficult to control.[5]
He possibly served during World War II, since Abraham Simpson once referred to a "Commander Flanders", when scolding Private Charles Montgomery Burns.[6]
Flanders once said "Homer, you met my parents" (to which Homer replied, "Not naked I haven't", as he was naked at the time).[7] Nedward and his wife were later seen attending Ned Flanders and Edna Krabappel's wedding as the only guests aside from Rod and Todd.[8] They also appeared visiting their son at his house, where they seemed to favor Homer's presence over Ned's.[9]
Appearances
[
edit
]
References
[
edit
]
<!–-INFOLINKS_OFF-–>
---