Thanksgiving
Wikisimpsons - The Simpsons Wiki
<!–-INFOLINKS_ON-–>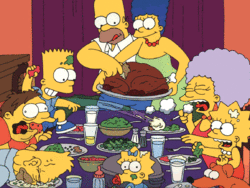 Thanksgiving is a national holiday, observed in November in the USA and in October in Canada. Several celebrations of the holiday have been seen in The Simpsons.
History
[
edit
]
This article or section is incomplete.


Please improve the article, or discuss the issue on the talk page.

For one Thanksgiving, the Simpsons had Grampa, Patty, Selma and Marge's mother Jacqueline over for dinner. The holiday was marred, however, by Bart and Lisa having a sibling spat, which resulted in an elaborate centerpiece that Lisa had made being burnt in the fireplace. With everyone mad at Bart, he was banished to his room and decided to run away from home out of spite. When he wandered into the seedy side of town, he realized how good he had it at home and decided to go back. After he made peace with the rest of the family (particularly Lisa), they sat down to a belated dinner of Thanksgiving leftovers.[1]
Moe once made over his bar into a post-modern look which drove away all of his regular customers, and Homer countered by founding a hunting club so he could serve drinks at his home. When he realized the club had to actually go hunting in order to be legal, he decided to hunt for a turkey since it was nearly Thanksgiving. Still mad at Homer, Moe decided to spoil the turkey hunt and ended being accidentally shot by Homer. Fortunately, he wasn't seriously hurt and they were able to make up. After that, Moe got rid of the bar's post-modern look and he and the Simpsons celebrated Thanksgiving together in the newly-restored Moe's Tavern.[2]
The Simpsons' Thanksgiving was again thrown into chaos when Lisa staged a one-person protest of the holiday (on the grounds that it exploited Native Americans) and Homer devoured the entire turkey and invited extra people for dinner without telling Marge. While Marge went to extreme lengths to attempt to get a replacement turkey, Homer was pressed into service to rescue Mr. Burns from a trio of genetically modified turkeys. Meanwhile, Grampa took Lisa to an Indian casino (where she learned that the Indians used the holiday to exploit the white man) and Bart met up with the kids from the Springfield Orphanage, who had been kicked out for the day due to Mayor Quimby's staging a charity event at the orphanage. Homer's rescue attempt resulted in the turkeys running loose in the streets, and Bart invited the orphans over for dinner. Everything worked out for the best, though, as everyone ended up arriving at the Simpson house at the same time, and when Marge ran over the turkeys in the car, there was enough food for everyone.[3]
During a later Thanksgiving dinner, Homer had a turkey wishbone stuck in his throat, and had to have it removed by Dr. Hibbert.[4]
When Homer made a large donation to Costington's (to make up for his ill-gotten gains from serving as Mr. Burns's "prank monkey"), he was invited to play the part of Santa Claus in the store's Thanksgiving Day parade. Homer messed up his line, yelling "Merry everyone!" to the crowd instead of "Merry Christmas!", but when Burns tried to persuade him to use the occasion to play a prank on the whole town, Homer stood firm and refused to go along with it.[5]
Non-canon
[
edit
]
| | |
| --- | --- |
| | The contents of this article or section are considered to be non-canon and therefore may not have actually happened or existed. |
The family were sitting around the table after Thanksgiving dinner. Marge then announced that it was the end of Thanksgiving and Christmas was starting.[6]
Appearances
[
edit
]
References
[
edit
]
<!–-INFOLINKS_OFF-–>
---