Yakuza
Wikisimpsons - The Simpsons Wiki
"They'll kill ya five times before ya hit the ground!"
―Agnes Skinner on the Yakuza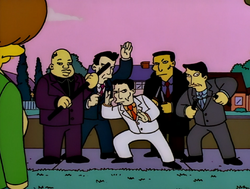 The Yakuza, a.k.a. The Poison Fists of the Pacific Rim are the Japanese Mafia.
History
[
edit
]
They were hired by the Springfield Investorettes to take on the Springfield Mafia, which ended up in a massive fight between the two on the front lawn of the Simpsons' house.
Behind the Laughter
[
edit
]
The Yakuza are members of traditional organized crime syndicates in Japan, notorious for their strict codes of conduct and organized nature. They have over 100,000 international members, with the most of their American operations being centred in, but not limited to, Hawaii.
Non-canon
[
edit
]
| | |
| --- | --- |
| | The contents of this article or section are considered to be non-canon and therefore may not have actually happened or existed. |
The Simpsons: Tapped Out
[
edit
]
This section is transcluded from The Simpsons: Tapped Out characters/Secret Villains. To edit it, please edit the transcluded page.

Yakuza Boss
Image
Cost
Unlock method
Unlock message
FREE
Secret Agents
Complete all Situation Room's Wall Street dossiers
1
Into the Simpsonsverse
Into the Simpsonsverse Mystery Box
Permanent Jobs
| Task | Time | Reward | Requires | Quest with the task | Animated? |
| --- | --- | --- | --- | --- | --- |
| Intimidate Some Business Owners | 60m | 70, 17 | Businesses | | |
| Protect Other Business Owners | 4h | 175, 45 | Businesses | | |
| Build Fight Drama | 8h | 275, 70 | Simpson House | Yakuza Boss | |
| Get a New Tattoo | 12h | 420, 100 | Jails | | |
| Smuggle Himself Into Jail | 24h | 600, 150 | Jails | | |
Appearances
[
edit
]
External links
[
edit
]