Femme Fatale
Wikisimpsons - The Simpsons Wiki
Femme Fatale is an employee at Globex Corporation.
History
[
edit
]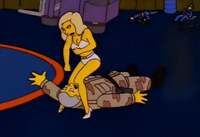 She tried to hire Waylon Smithers, Jr. but, after he refused, she turned to Homer Simpson instead. She also informed Hank Scorpio that there was a conference call with the United Nations.
She was later seen in a small war at Globex Headquarters where she was in her bra and knickers. She killed a soldier by breaking his neck between her thighs.
Non-canon
[
edit
]
| | |
| --- | --- |
| | The contents of this article or section are considered to be non-canon and therefore may not have actually happened or existed. |
The Simpsons: Tapped Out
[
edit
]
This section is transcluded from The Simpsons: Tapped Out characters/Secret Villains. To edit it, please edit the transcluded page.

Permanent Jobs
Task
Time
Reward
Requires
Quest with the task
Animated?
Flirt Deadly
60m
105, 26
Objectification May Be Closer Than It Appears Pt. 5
Do Deadly Gymnastics
4h
260, 70
Objectification May Be Closer Than It Appears Pt. 1
Overpay for Sex on the Beach
4h
260, 70
Smooches on the Beach
Stay at the Swelldorado
4h
260, 70
Swelldorado
Try to Win at Blackjack
4h
260, 70
$ Casino
Drink and Babysit
4h
260, 70
The Boiled Potato
Attend Coffee Meetup
4h
260, 70
Jittery Joe's Coffee
Shop for a Warmer Outfit
8h
420, 105
Springfield Mall or
Try-N-Save or
Costington's or
Kwik-E-Mart
Dance the Señor Burns
8h
420, 105
Chez Guevara
Update Her Understanding of Women's Rights
12h
600, 150
Springfield Library
Act Like Daddy's Little Monster
24h
1,000, 225
Brown House
Behind the Laughter
[
edit
]
Femme Fatale is a parody of Miss Goodthighs, a character from the 1967 comedy spin-off of the James Bond series, Casino Royale.
Appearances
[
edit
]
---