Spock
Wikisimpsons - The Simpsons Wiki
Spock
Character Information

Spock is a Starfleet officer in Star Trek.
History
[
edit
]
A person dressed up as Spock stands in line to ask for Grampa's money.[1]
When Leonard Nimoy was buying a hot dog, the vendor asked what he wanted on his hot dog, calling him Spock. Nimoy told him to surprise him.[2]
When Comic Book Guy hallucinated that he was Spock and saved James T. Kirk's life, he told Uhura that he wanted to make out with her, as he also does with Catwoman and Agent 99.[3]
Comic Book Guy has bought I Am Not Spock, I Am Spock, and I Am Also Scotty by Leonard Nimoy.[4]
In the montage of kisses when Nikki did CPR on Bart, one was between Spock and Uhura.[5]
He appeared in the Christmas movie Jingle Bell Spock.[6]
Mr. Spock is element Sk in Lisa's Table of Geeky Delights.[7]
Non-canon
[
edit
]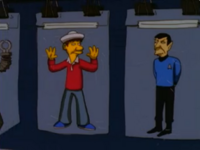 | | |
| --- | --- |
| | The contents of this article or section are considered to be non-canon and therefore may not have actually happened or existed. |
One of the celebrities The Collector had captured was Leonard Nimoy as Spock.[8]
When talking about time loops in film, Comic Book Guy showed Lisa and Nelson a picture from Star Trek Four, which featured James T. Kirk and Spock.[9]
When Comic Book Guy does his "Cosplay" task, he dresses up as Spock and runs around with a phaser.[10]
Appearances
[
edit
]
References
[
edit
]
External links
[
edit
]