Mary Tannenbaum
Wikisimpsons - The Simpsons Wiki
"Okay, Mary, you're a big city girl who never stops to enjoy the little things in life. And today, it all pays off."
―Mary Tannenbaum
Mary Tannenbaum is a movie producer for The Heartmark Channel.
History
[
edit
]
Mary was offered to a promotion to president of the Homemaker Mysteries division of The Heartmark Channel. In order to get the promotion, she would have to help with the Christmas movie A Christmas Ornament for Christmas. Mary was horrified by this as she hated Christmas movies. When Mary was back at home packing, she told her fiancé that she hated Christmas movies. Her fiancé then made her coffee, still not knowing how she liked coffee after two years of being engaged. Mary then traveled to Springfield to work on the film.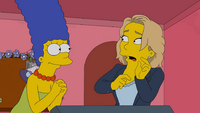 In Springfield, Mary stayed at the Simpson house, which was temporarily converted into a B&B for the movie. Mary was assigned Bart's bedroom, which annoyed Bart. Marge was an overbearing host to Mary and she just wanted to be left alone. Lisa then asked if she could shoot behind the scenes footage for a documentary for her Little Filmmaker merit badge. Mary told Lisa that she didn't know how to talk to kids, but Lisa went along with her anyway.
Mary went to Skip's Diner where she asked for a coffee in a certain way. However, the diner only had coffee in two ways. Principal Skinner, who was also at the diner, laughed at Mary. Mary and Skinner then had an argument until Mary left the diner. Mary then went to the set of the film to help organize everything. On the set, she found Skinner removing the Christmas decorations to put up posters for the Lettuce and Tomato Festival. When the man building the gazebos on the set couldn't work, Mary asked Skinner if he could build the gazebos instead, and in return she'd make sure Skinner could have his festival. Mary then got everything else sorted out for the film and got ready to leave. However, her boss phoned her and told her to work on the film until the end.
When Mary found out that there was no more fake snow for the film, she hired Homer to obtain fake snow. Skinner had the gazebos looking nice and Mary asked him to take a break whilst they film the next scene where the leads realize they're starting to like each other. Mary and Skinner then both realize that they're starting to like each other too. Just then, Mary's phone rang and her fiancé wanted to know what it was like in Springfield. Mary told him unflattering things about the townspeople to hide the fact that she was liking it there.
That night, Mary tells Marge that they were supposed to shoot the Christmas tree lighting scene the next day, but the beavers in Springfield had stolen the tree. As Mary was talking to Marge, she realized that they could use the Lettuce and Tomato Festival instead of a Christmas festival. The next day, the Lettuce and Tomato Festival was made Christmas-y, without Skinner knowing about it. When Skinner got back, he got angry at Mary because she had changed his festival into a holiday set piece. Mary took Skinner into the gazebo and showed him that everyone was having a great time. Meanwhile, Bart, who wanted to ruin the movie so he could get his room back, put the snow machine on max, which covered the town square in fake snow, and buried the gazebo that Skinner and Mary where in.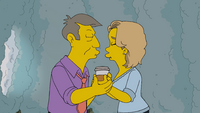 Skinner and Mary started to argue in the gazebo, which raised the heat. The two of them attempt to stay cool and fall for each other more. The next morning, Skinner had managed to dig them out with a shoehorn. He also brought Mary a coffee exactly how she liked it as she had remembered her order. As the two of them went to kiss, Mary's fiancé appeared at the opening. Realizing that she had made a mistake, Mary chased after him. Just then, Bart played footage of Mary saying unflattering things about the townspeople, which annoyed everyone and caused them all to quit the film.
Later that day, Mary spoke to Marge about everything, whilst drinking wine. Mary revealed that the reason that she hated Christmas films was because her father was an extra for Jingle All the Way, but he got trampled to death during filming. Mary then told Marge that she had lost everything, including the respect of the town. Meanwhile, Lisa was filming Mary and Marge's conversation. The next morning, Mary got into a taxi to go to the airport and go home. However, Moe took her to the town square instead, where everyone had come together to rebuild the set. They told Mary that Lisa and Bart had shown everyone the footage of Mary talking to Marge and realized that she didn't hate them. As Mary was thanking the town, her fiancé approached her and asked her to choose between him and Skinner. Mary chose Skinner initially, but Skinner told her she was crazy because her fiancé was better than him, and that she hadn't thought her decision through at all, and her poor decision making was making him dizzy. Mary then went back to her fiancé who said that it had been twice now that she had done something like that.
Personality
[
edit
]
Mary is a hard-working "city girl" who never stops to enjoy the little things. She is able to fix problems in filming with ease, often due to her negotiation skills. She also seems to have a habit of falling in love with other men, as she had done so twice whilst engaged to her fiancé. Mary also seems to be impulsive, wanting to get together with Skinner before even knowing his first name and without thinking the decision through.
Non-canon
[
edit
]
| | |
| --- | --- |
| | The contents of this article or section are considered to be non-canon and therefore may not have actually happened or existed. |
The Simpsons: Tapped Out
[
edit
]
This section is transcluded from The Simpsons: Tapped Out characters/Holiday Whodunnit. To edit it, please edit the transcluded page.

Permanent Tasks
Task
Time
Reward
Requires
Quest with the task
Animated?
Go Skating
10m
26, 7
Simpsons' Skating Rink
Pitch a Gritty Reboot
60m
105, 26
The Heartmark Channel
Overpay for Sex on the Beach
4h
260, 70
Smooches on the Beach
Stay at the Swelldorado
4h
260, 70
Swelldorado
Try to Win at Blackjack
4h
260, 70
$ Casino
Drink and Babysit
4h
260, 70
The Boiled Potato
Attend Coffee Meetup
4h
260, 70
Jittery Joe's Coffee
Give Up on Her Hopes and Dreams
4h
260, 70
Dance the Señor Burns
8h
420, 105
Chez Guevara
Film a Wedding Scene
8h
420, 105
Hie Locals for Pennies on the Dollar
12h
600, 150
Office of Unemployment or
Town Hall or
The Heartmark Channel or
Home
Scout for Undiscovered Talent
24h
1,000, 225
Springfield Community Theater or
Old Theatre District or
Open Air Stage or
Chinese Acrobatic Theater or
Springfield Community Center or
Springfield Multicultural Center or
Springfield High School or
Home
Behind the Laughter
[
edit
]
Mary's surname is a reference to "Tannenbaum" being the German word for "fir tree", and also a reference to the popular Christmas song "O Tannenbaum".
Appearances
[
edit
]