Man Getting Hit by Football
Wikisimpsons - The Simpsons Wiki
Man Getting Hit by Football
Movie Information

Man Getting Hit by Football (also referred to as Football in the Groin) is a film that Hans Moleman made and submitted to the Springfield Film Festival. It is a short film which depicts Moleman getting hit in the groin by a football, then falling to the ground.
History
[
edit
]
Homer Simpson loved Moleman's film and found it to be hysterically funny. Through tears of laughter, Homer said, "Give that man the ten thousand dollars!" which prompted Jay Sherman to sharply remind him that "this isn't America's Funniest Home Videos".
When the film festival jury convened to vote for the best film, Homer initially voted for Moleman's movie. Later, however, he changed his vote to Barney's film, Pukahontas.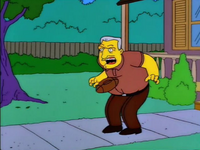 Several months later, a remake (starring George C. Scott in Moleman's role) was produced. It won an Academy Award, beating out A Burns for All Seasons (which had been Mr. Burns' entry in the Springfield Film Festival), despite Mr. Burns "bribing everyone in Hollywood".
Non-canon
[
edit
]
| | |
| --- | --- |
| | The contents of this article or section are considered to be non-canon and therefore may not have actually happened or existed. |
The Simpsons: Tapped Out
[
edit
]
Hans Moleman has the task "Make a Short Film", which involves him getting hit by a football whilst filming it. He also has a task on the Open Air Stage called "Man Being Hit By Football: The Musical".
Appearances
[
edit
]
---