Fred Flintstone
Wikisimpsons - The Simpsons Wiki
"Yabba dabba doo! I like talkin' to you!"
―Fred Flintstone
Fred Flintstone
Character Information

Fred Flintstone is a stone age man and a character in the animated sitcom The Flintstones.
History
[
edit
]
After Bart got sent to kindergarten again, he correctly named the triangle and was given first choice of toy. He chose the Flintstone Phone and pressed Fred's face, making him say his catchphrase.[1]
Bruce Vilanch also wore a Fred Flintstone T-Shirt.[2]
When Nancy O'Dell talked about Homer Simpson in Access Springfield she said that she is bored with the antics of "this warmed-over Fred Flintstone".[3]
Fred was on the cover of one of the old issues of TV Guide in Homer's collection.[4]
Non-canon
[
edit
]
| | |
| --- | --- |
| | The contents of this article or section are considered to be non-canon and therefore may not have actually happened or existed. |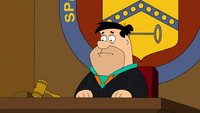 Fred presided as judge over the trial of Duff Beer v Pawtucket Patriot Ale.[6]
Behind the Laughter
[
edit
]
Fred Flintstone is a character from the Hanna-Barbera animated sitcom, The Flintstones.
Fred, along with Wilma and Pebbles, appeared in the couch gag for Kamp Krusty.[7]
Appearances
[
edit
]
References
[
edit
]
---