Donkey Kong
Wikisimpsons - The Simpsons Wiki
This article is about the character. For the video game series references, see Donkey Kong (series).
Donkey Kong
Animal Information

Donkey Kong is a video game character.
History
[
edit
]
He was one of four video game characters to convince Bart to steal a video game.[1]
He was once seen where the Noiseland Arcade had him meeting kids on Fridays (at least, this is what was advertised, as he didn't seem to meet anyone), and was smoking a cigarette when Wiseguy passes by and states that he's "just not a draw anymore." Donkey Kong responds by throwing a barrel at him, causing him to realize that Donkey Kong's "still got it."[2]
During the song "High to Be Loathed", Mr. Burns mentions Donkey Kong, and makes his shadow, among lots of other villains.[3]
Non-canon
[
edit
]
| | |
| --- | --- |
| | The contents of this article or section are considered to be non-canon and therefore may not have actually happened or existed. |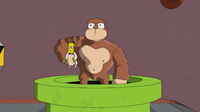 He also kidnaps Professor Frink and Bart and Lisa have to chase and use Mario-style transport pipes to get to him. His fighting arena is modeled after one of the stages from the Donkey Kong video game from the 1980s. He gets blown into a sea of green fluid and as he dies his hand shows a thumbs up.[4]
Behind the Laughter
[
edit
]
Donkey Kong is a fictional gorilla character who was created by Nintendo in 1981. His having his thumbs up while sinking is a parody of the Terminator movies.
Appearances
[
edit
]
References
[
edit
]
External links
[
edit
]
---