Groundskeeper Wilma
Wikisimpsons - The Simpsons Wiki
Groundskeeper Wilma is the groundskeeper at Shelbyville Elementary School. She resembles a female version of Groundskeeper Willie.
Non-canon
[
edit
]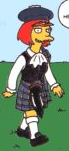 | | |
| --- | --- |
| | The contents of this article or section are considered to be non-canon and therefore may not have actually happened or existed. |
Lisa tells Wilma, who is known as Kate MacLoughlan, about Willie at the library and wants to meet him. However, when she finds out who Willie was, she immediately recognizes him as a member of the Tullabaronne clan, who are mortal enemies with the MacLoughlan clan that she hails from. This encounter causes the two to fight, with Willie winning.[1]
The Simpsons: Tapped Out
[
edit
]
This section is transcluded from The Simpsons: Tapped Out characters/Even More School Workers. To edit it, please edit the transcluded page.

Permanent Tasks
| Task | Time | Reward | Requires | Quest with the task | Animated? |
| --- | --- | --- | --- | --- | --- |
| Train for the Games | 60m | 70, 17 | Shelbyville Elementary | | |
| Overpay for Sex on the Beach | 4h | 260, 70 | Smooches on the Beach | | |
| Stay at the Swelldorado | 4h | 260, 70 | Swelldorado | | |
| Try to Win at Blackjack | 4h | 175, 45 | $ Casino | | |
| Drink and Babysit | 4h | 175, 45 | The Boiled Potato | | |
| Play the Bagpipes | 4h | 175, 45 | | Highlander Games Pt. 3 | |
| Attend Coffee Meetup | 4h | 175, 45 | Jittery Joe's Coffee | | |
| Dance the Señor Burns | 8h | 420, 105 | Chez Guevara | | |
| Buy Shelbyville Brand Only | 8h | 275, 70 | Speed-E-Mart | | |
| Rake Leaves | 12h | 420, 100 | Shelbyville Elementary | Highlander Games Pt. 2 | |
| Have a Drink at Joe's | 24h | 600, 150 | Joe's Tavern | Highlander Games Pt. 4 | |
Appearances
[
edit
]
References
[
edit
]
| | |
| --- | --- |
| | This article about a Simpsons character is a stub. You can help Wikisimpsons by embiggening it. |
---