Screamapillar
Wikisimpsons - The Simpsons Wiki
Screamapillar
Animal Information

The Screamapillar is an endangered species, one of which took up residence in a koi pond in the Simpson family's backyard. It is large and red and is similar to a caterpillar, and is notorious for its loud piercing scream. The Environmental Protection Agency is one of the main organizations charged with monitoring the species' welfare.
The Screamapillar is easily identified by its constant screaming—it even screams in its sleep. The Screamapillar is the favorite food of everything, is sexually attracted to fire, and needs constant reassurance or it will die. One way to reassure the Screamapillar is to burp it like a baby. Marge discovered that when the Screamapillar is burped, it spews copious amounts of vomit.
History
[
edit
]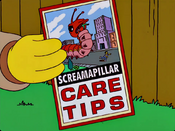 The Simpsons were forced to take care of the Screamapillar by the Environmental Protection Agency after it took up residence in their koi pond. Homer was about to step on it and kill it when an EPA scientist appeared. Citing the "Reversal of Freedom Act of 1994", the scientist informed the family that because the Screamapillar was an endangered species and had chosen to live in their backyard, they were responsible for its safety and well-being. He then gave them a booklet titled Screamapillar Care Tips. Lisa read aloud from the booklet some of the Screamapillar's traits, which prompted Homer to remark, "You sure God doesn't want it to be dead?"
In spite of being forced by the EPA, the Simpsons were very diligent about taking care of the Screamapillar. They set up a baby monitor system for it, which was how they discovered that it screamed in its sleep. Bart saved it from being eaten by Santa's Little Helper by distracting him with a cat, and Homer even read Classic Children's Stories to the animal. But when the Screamapillar angered Homer after he finished a story, Homer forcefully re-opened the book. The front cover landed on the Screamapillar, apparently killing it. In fear of consequences from the EPA, Homer buried the Screamapillar to hide what had happened. Just as he finished the job, an EPA helicopter circled above, shone its spotlight on Homer, and then landed. The EPA scientist asked why he didn't hear any screaming, and then the Screamapillar started screaming in its "grave". Relieved that the Screamapillar was alive, Homer plucked it out of the ground and told the EPA scientist that he deserved to be punished. In spite of his honesty, Homer was indicted on the charges of "attempted insecticide" and "aggravated buggery" and was found guilty and sentenced to 200 hours of community service. During the trial, the Screamapillar was seen with a tiny cast around its "neck", implying that it had been injured in some way.
When Homer was later sentenced to death for another crime, the Screamapillar was one of the execution witnesses, and smiled and laughed on seeing Homer in the electric chair.[1]
A Screamapillar was seen among the Dutch Leaf Slurper caterpillars.[2]
Non-canon
[
edit
]
| | |
| --- | --- |
| | The contents of this section are considered to be non-canon and therefore may not have actually happened or existed. |
Bart once had a dream wherein a giant Screamapillar was trying to eat Rod and Todd. Bart quickly turned into Bartman and saved them. The giant Screamapillar's abilities included biting, hitting with its tail, and screaming a supersonic scream.[3]
The Simpsons: Tapped Out
[
edit
]
Giant Screamapillar
[
edit
]
This section is transcluded from The Simpsons: Tapped Out characters/Prehistorians. To edit it, please edit the transcluded page.

Screamapillar Pond
[
edit
]
This section is transcluded from The Simpsons: Tapped Out decorations/Garden decorations. To edit it, please edit the transcluded page.

Screamapillar Pond
Image
Cost
Reward
Sell price
Conformity increase
Availability
Unique?
Dimensions -

D

x

W

FREE
100
Tree-hugging +100
Secret Agents
Complete all Situation Room's Environmental Protection Agency dossiers
4 x 4
40
Springfield Enlightened and Treehouse of Horror XXXII
Premium
Internal Name
Tiles
ID
ScreamapillarPond
Grass, Pavement, Boardwalk Section, Beach, Ornate Pier Section, Dirt
173522
Behind the Laughter
[
edit
]
Scream a Little Scream... also mentioned a strange language called "Screamese" that the giant Screamapillar can speak, but the only known words are various forms of "Eeeekk!"
Appearances
[
edit
]
References
[
edit
]