Hannibal Lecter
Wikisimpsons - The Simpsons Wiki
Hannibal Lecter
Character Information
Hannibal Lecter is a former psychiatrist turned cannibalistic criminal mastermind, and mental patient at the New Bedlam Rest Home for the Emotionally Interesting.
History
[
edit
]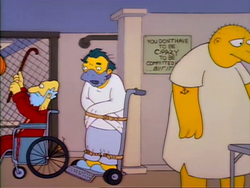 Homer was sent to New Bedlam because he wore a pink shirt to work and later failed a sanity test. He was put into a room with "Michael Jackson", and "Michael" showed Homer round the asylum, introducing him to some of the other patients. As they walked around, Hannibal Lecter was seen in the background twice: First, strapped upright to a hand truck; and second, sitting at a table in the cafeteria at lunchtime. Both times he was wearing a straitjacket and muzzle. At lunch, he was seen using a straw to sip a drink through his muzzle.[1]
When Smithers told Mr. Burns, that the actors would be auditioning for the film A Burns for All Seasons, Hannibal Lecter was taken to audition and he said "excellent" whilst slithering.[2]
Behind the Laughter
[
edit
]
Hannibal Lecter is the central character in the Hannibal Lecter novels by Thomas Harris and in the film adaptions from based on the novels. Anthony Hopkins played him in The Silence of the Lambs, Hannibal, and Red Dragon.
His second appearance where he slithers, is a reference to Hannibal Lecter's quote "I ate his liver with a side of fava beans and a nice Chianti," to which he slithers.
Appearances
[
edit
]
References
[
edit
]
External links
[
edit
]
---