Maggie Roark
Wikisimpsons - The Simpsons Wiki
Maggie Roark
Character Information

Maggie Roark is a character in a story by Marge based on The Fountainhead by Ayn Rand. The character's appearance is based on Maggie Simpson.
History
[
edit
]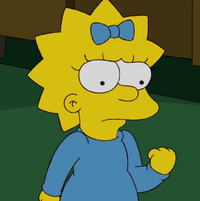 Maggie Roark attended Mediocri-Tots Daycare Center where the teacher, Ellsworth Toohey, wanted every child to conform and didn't want the children to be exceptional. Maggie Roark, however, was very creative in her play and would build great structures out of building blocks and other craft toys. This led to Mr. Toohey to destroy her creations. Maggie refused to submit to Mr. Toohey's rules and carried on building what she wanted.
At a parent-teacher day, Mr. Toohey showed all the parents how mediocre the children were. However, he found that Maggie had once again created a great structure. Maggie told Mr. Toohey that he sucked and Maggie was then placed on trial for what she had done. During the trial, Mr. Toohey recommended that Maggie receive nine time-outs, served consecutively. In response to this, Maggie Roark gave a passionate speech about how other creative people never compromised for daycare teachers. Maggie then had her nap time.
In the future, Maggie Roark grew up to be a world-famous architect. The building she designed became one of the wonders of the world. On the top floor of the building was a daycare center where every child was free to follow their dreams.
Behind the Laughter
[
edit
]
Maggie Roark is based on Howard Roark from The Fountainhead.
Appearances
[
edit
]