Alan Moore
Wikisimpsons - The Simpsons Wiki
This article is about the character. For the guest star, see Alan Moore.
Alan Moore
Character Information
Alan Moore is an English writer known for work in comics, including the acclaimed comic book series Watchmen, V for Vendetta, From Hell, and Batman: The Killing Joke.
History
[
edit
]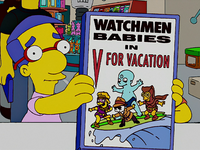 When Coolsville Comics & Toys became popular, Alan Moore, along with Art Spiegelman and Daniel Clowes, came to the store for a comic book signing. Comic Book Guy jealously tried to destroy Coolsville (as most of his customers had switched to the new store), but was subdued by Moore and the other two artists. When the trio confronted Comic Book Guy, they removed their shirts to reveal muscular superhero physiques. Comic Book Guy was eventually forced to close his store due to lack of business.
During the autograph session at Coolsville, Milhouse asked Moore to sign a DVD of Watchmen Babies in V for Vacation. Moore signed the DVD for Milhouse, but started to go off into a tirade about movie studios' taking liberties with comic artists' works. However, he quickly read a Little Lulu comic to calm himself down.
Moore's comics are often seen on the shelves in Comic Book Guy's shop, The Android's Dungeon & Baseball Card Shop.
Appearances
[
edit
]