Fake Homer
Wikisimpsons - The Simpsons Wiki
The title of this article is a conjecture.
Though the topic is found within The Simpsons universe, a proper name is not available.
"Fake Homer"
Character Information
"Fake Homer" (real name not known) is a man who was hired by Number 2 to pose as Homer Simpson.
History
[
edit
]
While Homer was being held captive on The Island, Number 2 hired Fake Homer to live with the Simpson family so they would think Homer was still at home. He was a less-than-perfect replacement, however. As soon as he walked in the door it was obvious he wasn't Homer, as he spoke with a German accent and called Marge "honey-fräulein". Marge was immediately suspicious ("You're not my husband"), but Fake Homer said that to make up for his unexplained two-week absence, they would "go out to dinner at a sensibly priced restaurant, then have a night of efficient German sex." This mollified Marge, as she didn't feel like cooking.
Later, Bart saw Fake Homer using an electric shaver on his supposedly bald head and said there was something different about him. Fake Homer quickly explained that he was wearing a new tie, which satisfied Bart.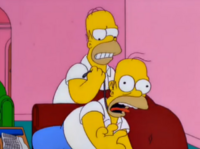 Fake Homer's ruse was revealed when the real Homer escaped from The Island and made it back home. He and Fake Homer fought, and (real) Homer won the fight, disabling Fake Homer by kicking him in the crotch. Marge and the kids were happy to have Homer back, but the reunion was short-lived as the whole family was captured and taken to The Island.
Appearances
[
edit
]
---