Brotherhood of the Spectacles
Wikisimpsons - The Simpsons Wiki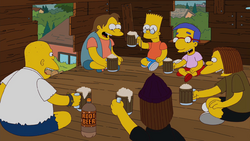 The Brotherhood of the Spectacles (also referred to as the Rough Riders) is a group of Bart's classmates at Springfield Elementary. The group consisted initially of Bart Simpson, Nelson Muntz, Milhouse Van Houten, Dolph Shapiro and Jimbo Jones. Kearney Zzyzwicz was a later addition to the group.
History
When Superintendent Chalmers was put in charge of Bart's education, he sparked a fascination in President Roosevelt. He took the band of "Rough Riders" (then consisting of Bart, Milhouse, Nelson, Dolph and Jimbo) on an overnight excursion to Springfield Forest to find Roosevelt's legendary lost pair of spectacles, for which the group was later named. Nelson found the spectacles but hurt his arm, and Chalmers was fired after the school board found out about the unauthorized field trip.
Outraged over Chalmers' dismissal, Bart announced the formation of the Brotherhood of the Spectacles (now including Kearney) with the mission of getting Chalmers his job back. The group took over the school, deceiving the teachers into leaving and taking the students hostage, creating a standoff which lasted until Chalmers was reinstated.
Appearances