The Simpsons: Tapped Out Bart Royale and Valentine's Day 2018 content update
Wikisimpsons - The Simpsons Wiki
163
"Bart Royale and Valentine's Day 2018"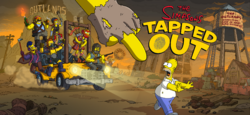 "Just like your parents' marriage, the magic has left Springfield. The beasts are tamed, the evil sorcerer defeated, and the magical school is back to just... school. It's time to put away the wands, spell books, and potions and return to a life of magic-less monotony. But what's next for your town? An alien immigration? The return of the masonic messiah? Or maybe a generational division of lowest common denominators! Stay tuned for more characters, buildings and stories coming soon!"
―Event teaser description on app store.
"It's a battle for the ages! Wait, we mean a battle of the ages – kids and adults are at war in Springfield! But what could cause this generational divide – Unfair bedtimes? Too many vegetables? Territory rights to the town's new playground? (That last one was so specific it has to be true). Can Bart lead the youths to victory over Homer's aged army and claim Springfield's new Mega Playscape?

Gather your troops, fortify your structures, and see saw your seesaws. It's time for war."
―Event description on app stores.
The Simpsons: Tapped Out Bart Royale and Valentine's Day 2018 was released on January 23, 2018 and is the one hundred and sixty-third content update. It was teased in the Bart Royale Teaser update. The update had one main event and one secondary update.
Bart Royale
[
edit
]
Valentine's 2018
[
edit
]