Martin Prince, Jr.
Wikisimpsons - The Simpsons Wiki
"Martin" redirects here. For other uses of "Martin", see Martin (disambiguation).
"Pick me, teacher, I'm ever so smart!"
―Martin
Martin Prince, Jr.
Character Information
Martin Prince, Jr. is Bart Simpson's classmate, and is Lisa Simpson's rival in intelligence. He is Nelson Muntz's favorite target for bullying, aside from Milhouse. He is an academically brilliant teacher's pet, and is a stereotypical nerd. Martin is a 4th grade student at Springfield Elementary School.
Biography
[
edit
]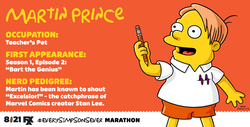 Martin is the son of Martin and Martha. He is an academically brilliant student. He is also a teacher's pet with the stereotypical nerd enthusiasms for science fiction, role-playing games and not-so-great fashion sense. He has an IQ of 216.[3] As the class nerd, he unwittingly becomes the perfect target for ruthless bullying at Springfield Elementary School. He is a member of the Springfield band, and is often seen with a French Horn. Martin is also a proficient computer programmer[4] and has been a professional Conflict of Enemies gamer.[5]
Given Martin's fawning behavior towards adults and condescension towards his peers (such as successfully petitioning to have the school day extended by 20 minutes[6]), most of Springfield cheers on his tormentors. An example of this is when Mrs. Krabappel assigns a World War I paper. Martin asks if he can type his report and then if it can be ten pages (minimum). Martin disappears almost immediately and Nelson lets the not particularly concerned teacher know that "he's gone now".[7] Despite this behavior, Martin tries to be friendly with Nelson. Nelson also appears to be protective towards Martin when it comes to other bullies.[8] Martin is somewhat overweight, as noted by Abraham Simpson once. He is sent to the weight loss section of the hellish Kamp Krusty. Although his father calls it "image enhancement camp", Martin sees right through this, shouting "Spare me your euphemisms! It's fat camp for daddy's chubby little secret!"[9] The sexuality of Martin was initially the subject of various jokes and innuendos, although he has since denied being gay. He may be transgender, since he has some feminine interests such as nail polish and has crossdressed.[10]
Once Bart challenged him for the class presidency. Martin, of course, has a comprehensive (though not particularly politically well-judged) platform which Bart, with the aid of Homer, picks apart with populist nonsense. In a debate, Martin begins to speak of the high level of asbestos in the classrooms. Bart interrupts and says "That's not enough! We want More asbestos! More Asbestos!," leaving the entire class chanting this arrant nonsense. Nevertheless, Bart still loses the election as Martin and his running mate Wendell are the only ones in the class who bothered to vote on election day.[11]
Despite the natural animosity between Bart and Martin, the two have often joined forces. Sometimes they even appear friends and will work together when needed. Once Martin tutored Bart in exchange for lessons on being cool (although Martin betrayed Bart at the end of their collaboration).[12] Martin and Bart also worked together on a soapbox racer.[13] Bart, Martin, and Milhouse all pool their money to buy a copy of the first Radioactive Man comic.[14] Also when Bart must wear corrective lenses and leg supports, and temporarily looks quite nerdy and becomes an even greater target for bullying. It is during this time that Martin and a group of nerds save him until he no longer has to wear his glasses or boots.[15] When kids from Shelbyville steal Springfield's lemon tree, Martin joins Bart as part of the gang of raiders who seek to take the lemon tree back (Bart describes him as the gang's smart guy).[8]
During one spring break, Martin accompanies Bart, Nelson, and Milhouse on a chaotic road trip to Knoxville, Tennessee. Bart is not very harsh on Martin (yet he mistakenly refers to him as "Milton" and is corrected by Milhouse) most of the time, but Martin can get out of control.[16] Aside from being a bit snobbish, Martin once became a bad boy even worse than Bart, once slapped Bart on the head when Bart was sad that Homer didn't support him, and once threateningly held a small Shelbyville kid up against a tree, maybe as a result after all the bullying he suffers.[8]
Over time, Bart has become less and less hostile with Martin to the point of total neutrality, but this has not stopped the Springfield Elementary bullies from continuing their traditional beating. Martin also has become less condescending and more passive. He is often depicted as too passive, since even Lisa Simpson can be a bit harsh to him, such as an event in which Lisa is initially blamed by Sherri and Terri for being responsible for stranding the group of children on a deserted island because she helped set up the disastrous field trip. Lisa in turn states that Martin seconded the trip, and because of that it is his fault.[17] Martin has been known to casually hang out with Bart's group from time to time as well, and is often seen with Bart and Milhouse in the background. He is also occasionally seen with Ralph Wiggum. Martin also sits directly in front of Bart in their fourth grade class. Although they often work together on various school projects and classwork, it is implied that Martin and Lisa are also rivals of a sort, especially when it comes to the Science Fair. Martin is seen grinning at the back of the bus, as it rides off without her. He proclaims that without Lisa there to grab the first prize badge, he will receive first place.[18]
Suspected death
[
edit
]
Martin was at the Springfield National Park excavating for arrowheads when Bart and Lisa found him and decided to join him. Bart got bored and decided to pull a prank, taking the bone from Sideshow Mel's hair. Bart showed the bone to Martin and then pulls a string attached to it, which knocked Martin on the head, knocking him off the cliff and onto a ledge below. Lisa then tried to use a long stick for Martin to grab onto but knocked him further down the cliff instead. The police ended up investigating and decided that Martin fell off the cliff and got eaten by a cougar, declaring him dead.
Bart and Lisa felt a lot of guilt about Martin's death. Meanwhile, Nelson figured out that something was up as he knew that Martin was afraid of heights. Nelson then started investigating to get to the bottom of the mystery. Nelson found the bone tied to the string and questioned Bart about it, suggesting that someone had played a prank on Martin. Bart, who couldn't live with the guilt, went to Martin's house to "end it all", by which he meant he was tending to Martin's butterfly enclosure as they were emerging from chrysalises that night. As the chrysalises hatched, Martin's voice started up, scaring Bart and Lisa. They realized that it was a tape that was playing for when the butterflies hatched. Lisa turned the tape off but his voice kept going. Getting scared, Bart and Lisa admit that they killed Martin, which Nelson heard. Shortly after, Martin appeared, telling them to keep it down around the newborns. Martin then explained that he landed on a small island in the murky lake and spent an hour making a raft and three days making a modesty skirt.[19]
Non-canon
[
edit
]
| | |
| --- | --- |
| | The contents of this article or section are considered to be non-canon and therefore may not have actually happened or existed. |
He attended Springfield High School and went to the prom with a robot. He most likely went to college and then returned to Springfield Elementary and became a teacher. There was a science fair explosion at Springfield Elementary. He was thought to have been killed, but he survived. He lived the rest of his life like the Phantom of the Opera under the school, playing music on an electric pipe organ. He also changed his name to "Marsha Princess" and had a sex change, as mentioned by Lisa.[20]
The Simpsons Game
[
edit
]
Martin appears mostly in the cutscenes of the level Mob Rules where he grabs Ned Flanders out of his car and takes off driving it while rushing home to play Grand Theft Scratchy. He eventually crashes the car into the side of the SequelStop store.[21]
The Simpsons: Tapped Out
[
edit
]
Default
[
edit
]
This section is transcluded from The Simpsons: Tapped Out characters/Kids. To edit it, please edit the transcluded page.

Martin
Image
Cost
Unlock method
Unlock message
6,400
Level 12, Springfield Library
Sanctus Arx Nerdarium
Permanent Tasks
| Task | Time | Reward | Requires | Quest with the task | Animated? |
| --- | --- | --- | --- | --- | --- |
| Play the Lute | 45s | 3, 1 | | Nerds Gone Wild | |
| Smell the Roses | 10m | 17, 5 | Snapdragons | My Glorious Return! | |
| Sneak an Ice Cream | 30m | 60, 15 | Ice Cream Truck | | |
| Go on a Field Trip | 60m | 105, 26 | Cypress Creek Elementary | | |
| Look for Answers | 60m | 70, 17 | Hidden Research Facility | | |
| Rehearse Play | 60m | 70, 17 | Springfield Elementary | | |
| Catch a Movie | 2h | 110, 27 | Big T Theatre | | |
| Attend Mensa Meeting | 3h | 135, 35 | Gazebo | | |
| Try to Be Cool | 4h | 175, 45 | | | |
| Feed the Owls | 4h | 175, 45 | Magic Tower | | |
| Practice His French | 4h | 175, 45 | Paris Hotel | | |
| Visit Idols | 4h | 260, 70 | Westminster Abbey | | |
| Learn by Fun | 4h | 175, 45 | Childrarium | | |
| Put Coins on the Rails | 4h | 175, 45 | Springfield Union Station | | |
| Search for Wet Paint to Watch Dry | 4h | 175, 45 | Museum of Zippers | | |
| Work as an Unpaid Intern | 4h | 175, 45 | Mapple HQ | | |
| Get Fit and Educated | 4h | 175, 45 | Springfield Gymdandee | | |
| Split a Fancy Mac and Cheese | 4h | 175, 45 | Le Petite Appétit | | |
| Play With Interactive Exhibits | 4h | 175, 45 | KidZone Elite | | |
| Go to School | 6h | 225, 55 | Springfield Elementary | | |
| Stargaze | 6h | 350, 90 | Springfield Observatory | | |
| Report For Space Camp | 6h | 225, 55 | Exploration Inc. | | |
| Ride a Bike | 8h | 275, 70 | | Allies At Last! Pt. 1 | |
| Attend Wizarding School | 8h | 275, 70 | Magic Academy | | |
| Assault the Bandit Fort | 8h | 420, 105 | Bandit Fort | | |
| Get Brainfreeze | 8h | 275, 70 | Pinkbeardy Yogurt | | |
| Get Caught in Webs | 8h | 420, 105 | Big Bug House | | |
| Have a Bazaar Experience | 8h | 275, 70 | Bazaar | | |
| Serve as Hall Monitor | 12h | 420, 100 | Springfield Elementary | | |
| Celebrate the 'WOD FIR' | 16h | 500, 110 | The Sun Sphere | | |
| Study All Night for Meaningless Test | 24h | 600, 150 | Springfield Library | Allies At Last! Pt. 2 | |
Ice Princess Martin
[
edit
]
This section is transcluded from The Simpsons: Tapped Out characters/More Costumes. To edit it, please edit the transcluded page.

Permanent Tasks
Task
Time
Reward
Requires
Quest with the task
Animated?
Sneak an Ice Cream
30m
60, 15
Ice Cream Truck
Sing His Cares Away
60m
105, 26
The Princess Nerd Pt. 1
The Princess Nerd Pt. 4
The Princess Nerd Pt. 6
Be Cool
4h
260, 70
Ice Palace
Show Off The Sparkles on His Dress
8h
420, 105
Kwik-E-Mart
The Princess Nerd Pt. 3
Attend Wizarding School
8h
275, 70
Magic Academy
Make New Friends
12h
600, 150
Ice Palace
Host an Ice Palace Play Date
24h
1,000, 225
Ice Palace
The Princess Nerd Pt. 5
The Princess Nerd Pt. 8
Wizard Martin
[
edit
]
This section is transcluded from The Simpsons: Tapped Out characters/Treehouse of Horror XXVI Kids. To edit it, please edit the transcluded page.

Martin's IQ is 216. The highest verified IQ in real life is 232.[22]
Appearances
[
edit
]
This article or section is incomplete.


Please improve the article, or discuss the issue on the talk page.

References
[
edit
]
This article is covered by multiple navigation templates. Click "show" to view.
Factfiles from Simpsons World the Ultimate Episode Guide: Seasons 1-20
Season 14
Rock Stars • Audrey McConnell, Third Grade Teacher • Dr. Velimirovic, Plastic Surgeon • Mitch Hartwell, the Reality Channel Producer • Junior (AKA Frank Grimes, Jr.) • Teacher of the Year Award Nominating Committee • Dexter Colt, Private Eye • The Mugger • Larry H. Lawyer, Jr. • Baby Stink-Breath • Booberella • Sara Sloane, Hollywood Movie Star • Cookie Kwan, Red Coat Realtor • Stark Richdale • Declan Desmond • Julio and Grady • Luke Stetson, Junior Wrangler • Suds McDuff, Spokesdog/Mascot for Duff Beer • Marriage Counselor • Jim Proudfoot • Don Castellaneta
---