Springfield Hydroelectric Dam
Wikisimpsons - The Simpsons Wiki
For the level in The Simpsons Road Rage, see Springfield Dam (Simpsons Road Rage).
Springfield Hydroelectric Dam
Location Information

The Springfield Hydroelectric Dam is the only hydroelectric dam in Springfield.
History
[
edit
]
The project to build the dam was managed by Cecil and Sideshow Bob. It was later discovered by Sideshow Bob, Bart and Lisa that the dam didn't have any cement inside, and the money for it was stolen by Cecil. He attempted to destroy the Dam with a bomb, in order to wipe out Springfield as a plot to frame Sideshow Bob as revenge for being made Krusty's Sideshow over himself. Sideshow Bob, Bart and Lisa were able to foil Cecil's plans. The Dam was hollow and so exploded by itself, but the water just rushed through Springfield, not causing any damage.[1] To pay for the Dam's reconstruction, the town sold the billboard rights to the structure to Duff Beer, much to Homer's joy.[2] The dam once raptured and killed a reporter from Channel 6 News. ("Burger Kings")
Non-canon
[
edit
]
| | |
| --- | --- |
| | The contents of this article or section are considered to be non-canon and therefore may not have actually happened or existed. |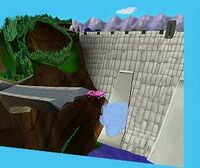 In The Simpsons Road Rage and The Simpsons: Hit & Run, the dam is under construction and there is an incomplete bridge next to it. In both games it is located near Kamp Krusty.
In The Simpsons Skateboarding, the dam is located in the Springfield Gorge level next to the gorge.
The Simpsons: Tapped Out
[
edit
]
This section is transcluded from The Simpsons: Tapped Out decorations/Science decorations. To edit it, please edit the transcluded page.

Springfield Dam
Image
Cost
Reward
Sell price
Conformity increase
Availability
Unique?
Dimensions -

D

x

W

20,000,000
10,000
Vanity +100
Road to Riches
Springfield Dam
Send Cecil on tasks
16 x 16
Appearances
[
edit
]
References
[
edit
]