The Simpsons: Tapped Out Time Traveling Toaster, Road to Riches, Donut Day 2017 and 4th of July 2017 content update/Road to Riches
Wikisimpsons - The Simpsons Wiki
The Simpsons: Tapped Out Road to Riches content update is a secondary update of the Time Traveling Toaster, Road to Riches, Donut Day 2017 and 4th of July 2017 update and was released on May 30th, 2017.
Characters
[
edit
]
Returning
[
edit
]
Decorations
[
edit
]
Image
Name
Cost
Notes
Springfield Dam
20,000,000
Unlocks after completing Springfield Dam.
"Dam that looks good combined with rivers! Help Cecil invest funds for its construction!"
Mansion Gardens Statue
40,000,000
Unlocks after completing Mansion Gardens.
"What sort of arrangements can you come up with? Invest funds to find out!"
Mansion Gardens Gazebo
Mansion Gardens Square
Mansion Gardens Pillar
Mansion Gardens Planter
Mansion Gardens Pond
Mansion Gardens Tree Line
Mansion Gardens Platform
Rock and a Hard Place
80,000,000
Unlocks after completing Rock and a Hard Place.
"Fund this project! A particularly painful job awaits Homer between these locations."
Coming Soon
Future items coming later.
"Check back soon for more outrageously expensive items to sink your hard farmed money into!"
"Come back later to invest money to fund Cecil's big projects!"
Item origins
[
edit
]
Item
Episode
Cecil Terwilliger
"Brother from Another Series", "Funeral for a Fiend", "Oh Brother, Where Bart Thou?", "My Fare Lady"
Springfield Dam
"Lisa's Rival", "Lisa the Vegetarian", "Mother Simpson", "Brother from Another Series", "The Man Who Grew Too Much"
Rock and a Hard Place
The Simpsons Movie
Mansion Gardens Statue, Mansion Gardens Gazebo, Mansion Gardens Square, Mansion Gardens Pillar,
Mansion Gardens Planter, Mansion Gardens Pond, Mansion Gardens Tree Line, Mansion Gardens Platform
The Simpsons: Tapped Out exclusive
Gameplay
[
edit
]
Let Bygones Be Gone
[
edit
]
After the user logs in on May 30th, building an aspirational (Cubic Zirconia, The Sunsphere, Sit-N-Rotate,
Krusty Burger Oil Rig, Escalator to Nowhere, Popsicle Stick Skyscraper or Fortress of Choclitude) and having 2,000,000 or more:
Fair Springfield, I've done you wrong in the past; but I hope you'll forgive a young Terwilliger his foolishness.
Allow me another shot at adding to the beauty of your humble burg.
Get lost Sideshow, Jr.
Last time you left the place in shambles.
Thus driving down home prices! A positive boon for any young couple searching for their starter home.
Task: Unlock Cecil
Springfield Dam
[
edit
]
After completing Road to Riches Intro:
Citizens of Springfield, I have decided to right my previous wrong by completing the promised hydroelectric dam.
I will make Springfield the greenest city in all of the lower forty-eight!
We tried this "green" madness once before. And were nearly destroyed by that visionary super-genius Elon Musk!
You sound just like him! Minus the near-indecipherable accent, of course.
Task: Invest $20,000,000
Quest reward: Springfield Dam, 100 and 10
Mansion Gardens
[
edit
]
After completing Springfield Dam:
A responsible society must from time to time embrace the redistribution of wealth.
Come on ninety-nine percent. Time to give, give, give to your betters!
Task: Invest $40,000,000
Quest reward: Mansion Gardens Statue, Mansion Gardens Gazebo, Mansion Gardens Square, Mansion Gardens Pillar,
Mansion Gardens Planter, Mansion Gardens Pond, Mansion Gardens Tree Line, Mansion Gardens Platform, 100 and 10
Rock and a Hard Place
[
edit
]
Rock and a Hard Place
[
edit
]
After completing Mansion Gardens:
The outcry was negative on my last project, now I build for ALL the people.
And I'll leave it up to the populace to decide the direction of my next project.
Blow up Springfield Elementary!
An arena! Where Deep Purple is forced to perform day and night for the rest of their natural lives!
So long as it has a bar, with free liquor and a strict no-AA Sponsors allowed policy, we're good!
And make Shelbyville pay for it!
System Message
Just a note, we can't make Shelbyville pay for it.
Task: Invest $80,000,000
Quest reward: Rock and a Hard Place, 100 and 10
Rock and a Hard Place Pt. 2
[
edit
]
After completing Rock and a Hard Place:
Task: Make Homer Experience Irony (8h, Rock and a Hard Place)
Quest reward:

100 and

10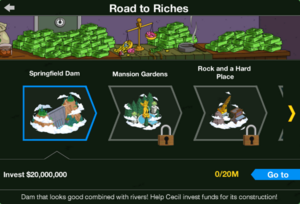 | Image | Name | Money to invest |
| --- | --- | --- |
| | Springfield Dam | 20,000,000 |
| | Mansion Gardens | 40,000,000 |
| | Rock and a Hard Place | 80,000,000 |
| | Coming Soon | Future items coming later. |
Conform-o-meter impact
[
edit
]
Building or Item
Rating
Points
Springfield Dam, Mansion Gardens Statue, Mansion Gardens Gazebo, Mansion Gardens Square, Mansion Gardens Pillar,
Mansion Gardens Planter, Mansion Gardens Pond, Mansion Gardens Tree Line, Mansion Gardens Platform, Rock and a Hard Place
Vanity
100
Sources
[
edit
]
Overview at Tapped Out - Update Information