Theme Song
Wikisimpsons - The Simpsons Wiki
The theme song of The Simpsons is probably one of the most recognizable theme songs in American television history. The famous 12-note motif was originated from the brain of Danny Elfman. Even though he wrote a lot of other television and movie scores, Elfman considers The Simpsons theme song the composition that he will be forever known for.
History of the Song
[
edit
]
Creator Matt Groening hired Elfman personally to write the theme song. He gave him a concept of what he wanted as well as a mix tape of songs that he wanted the theme to sound like. Groening put the concept of the song like this, "The trend in TV themes for the previous 15 years had been namby-pamby synthesizer schlock that seemed to whimper, 'We can't offer you much, but please like our pathetic little show.' I wanted a big orchestrated, obnoxious, arrogant theme that promised you the best time of your life."Among the tracks on the tape were the theme songs from The Jetsons (both have the same first three notes), selections from Nino Rota's "Juliet of the Spirits," a Remington electric shaver jingle composed by Frank Zappa, some easy-listening music by Esquivel, and a teach-your-parrot-to-talk record. After listening to the tape several times, Elfman approached Groening and said, "I know exactly what you're looking for."[1]
Ever since then, the opus was heard in everything Simpsons related and covered by many artists on the show.
The theme won the National Music Award for "Favorite TV Theme" in 2002, and has won the BMI TV Music Award in 1996, 1998, and 2003. In 1990, the theme was nominated for the Emmy for "Outstanding Achievement in Main Title Theme Music"
Notable cover versions
[
edit
]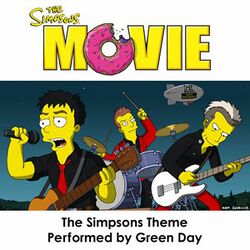 Green Day cover
[
edit
]
The Green Day cover of the theme song was released as a single. It went to #106 on the Billboard Hot 100, #19 on the UK Singles Chart, and #16 on the UK download chart.
References
[
edit
]