We Are the Mediocre Presidents
Wikisimpsons - The Simpsons Wiki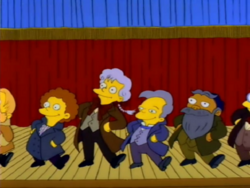 We Are the Mediocre Presidents is a song sung by Springfield Elementary School in a play.
Good evening, everyone, and welcome to a wonderful evening of theater and picking up after yourselves. (someone coughs) We begin with a tribute to our lesser-known Presidents.
(drum roll, a bugle plays "Hail to the Chief")
Children:
We are the mediocre Presidents.
You won't find our faces on dollars or on cents.
There's William Henry Harrison.
Harrison:
I died in thirty days!
Children:
We...
Are...
The...
Adequate, forgettable,
Occasionally regrettable
Caretaker Presidents of the U.S.A.!
(bugle plays "Hail to the Chief," trombone plays "Shave and a Haircut," tuba plays "Two bits")
(applause)
Behind the Laughter
[
edit
]
The music was written by Alf Clausen and Jeff Martin and the lyrics by Martin and Frank Mula. It is the forty-first track on the album Go Simpsonic with the Simpsons.
Appearances
[
edit
]
---