Sir Loins-A-Lot
Wikisimpsons - The Simpsons Wiki
<!–-INFOLINKS_ON-–>
Not to be confused with Sir Oinks-A-Lot.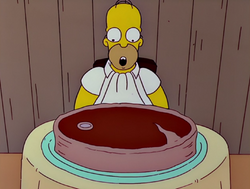 "Sir-Loins-A-Lot" is a sixteen-pound steak served at the restaurant The Slaughterhouse. It is the largest steak on the menu.
History
[
edit
]
Only two people have succeeded in eating a Sir Loins-A-Lot steak completely: Tony Randall and Red Barclay. Red Barclay actually accomplished the feat twice, the second time during an eating competition with Homer Simpson. Red won, but suddenly died of beef poisoning (according to Doctor Hibbert, from beef served in some other restaurant). Homer, for his part, wasn't able to finish the Sir-Loins-A-Lot. Because he had never eaten so much meat at once, he began hallucinating when he was only halfway through eating it.
Appearances
[
edit
]
<!–-INFOLINKS_OFF-–>
---