Tomacco
Wikisimpsons - The Simpsons Wiki
Tomacco
Food/Drink Information
Tomacco, also spelt ToMacco, is a crop made by Homer. He created it when mixing tobacco and tomato seeds and using plutonium on the field to make them grow faster.
History
[
edit
]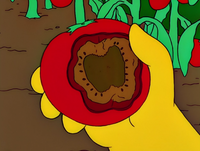 After leaving town due to a Southern colonel wanting to duel Homer, the Simpson family went to the Old Simpson Farm where Homer grew up. Homer decided to start the farm up again and live there for a while until the colonel left their house. After buying seeds of multiple crops, including tomatoes, tobacco, and gummy bears, Homer planted them and waited for them to grow. However, nothing grew on their farm, despite other nearby farms not having problems. Homer then placed a call to Lenny at the Nuclear Power Plant, who then mailed Homer some plutonium.
When Homer received the plutonium, he exposed the farm to it, causing it to glow a radioactive green. The family then went to sleep that night and woke up expecting to see huge crops on the farm. Homer was disappointed to find that there weren't any crops still and thought he was a failure. Lisa then noticed a sprout was growing, which excited Homer. Eventually the crops grew into what the family thought were ordinary tomatoes. However, when Bart took a bite out of one, he found that it tasted awful. Marge looked at the crop and realized that it was brown inside and Lisa worked out that it crossbred with the tobacco seeds. Despite hating the taste, Bart became addicted to the Tomacco and kept eating it.
Homer decided to sell his new crop at a roadside stall, first selling some to Chief Wiggum and Ralph. Shortly after, executives for Laramie Cigarettes turned up and offered to buy Tomacco for $150 million. The Simpsons decided to play hard ball with their offer and demanded $150 billion instead, leading to them getting left on the road. Homer was fine because he thought he still had the Tomacco crops, but then realized that a lot of farm animals had eaten nearly all the crop. They saved one single plant and hid in the house with it. However, the animals forced their way in, causing the Simpsons to flee with the crop. Homer threw the plant to the animals, but it was caught by Mindy instead, who took it onto the Laramie helicopter. As the helicopter was in flight, they realized that a crazy animal had gotten onto the helicopter to get the Tomacco. The helicopter then crashed, destroying the last Tomacco plant.
Non-canon
[
edit
]
| | |
| --- | --- |
| | The contents of this article or section are considered to be non-canon and therefore may not have actually happened or existed. |

In The Simpsons: Hit & Run, a billboard can be seen over a Tomacco field. In The Simpsons: Tapped Out, Tomacco is one of the crops that a player can grow on Cletus' Farm. In the game, it takes 60 minutes to grow, costs

15 and once harvested, the player gets

75 and

20 as a reward.
Behind the Laughter
[
edit
]
In the high-definition opening sequence, Maggie is on the cash register's conveyor belt alongside a bottle of Tomacco Juice.
An archive image of Tomacco was seen in the couch gag for "Looking for Mr. Goodbart".
Real Tomacco
[
edit
]
After the episode aired, Rob Baur from Oregon, a fan of the show, tried growing Tomacco in real life. He grafted a tomato plant onto tobacco roots and created a real version of the plant.[1] Ian Maxtone-Graham got in contact with Baur about the Tomacco and invited him and his family to a table read. Rob Baur sent one to the producers, with a warning that it could be poisonous. The producers were therefore reluctant to eat it but they eventually tried it and found that it didn't have any nicotine in it at all.[2]
Appearances
[
edit
]
References
[
edit
]