Stabby-Oh's
Wikisimpsons - The Simpsons Wiki
Stabby-Oh's
Food/Drink Information
Stabby-Oh's is a breakfast cereal, marketed by Itchy and Scratchy in a television advertisement.
Description
[
edit
]
Stabby-Oh's consists of O-shaped cereal pieces and weapon-shaped colored marshmallow bits: pink daggers, green hatchets and yellow icepicks, all of them blood red at their tips.
Advertisement
[
edit
]
At breakfast time, a boy and girl walk into the kitchen rubbing their eyes. A figure wearing a bathrobe and hair curlers stands in front of the stove, back to the camera. The voice-over announcer says, "Hey, kids! Look who's making breakfast!" The figure turns around, revealing itself to be Scratchy standing on Itchy's shoulders. The boy and girl exclaim, "Itchy and Scratchy!" Scratchy jumps down from Itchy's shoulders and says, "That's right, kids!"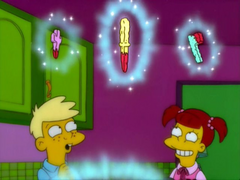 Itchy says, "Never start the day on an empty stomach", jams a funnel into Scratchy's mouth, and pours an entire box of Stabby-Oh's down Scratchy's throat. Scratchy says, "It's delicious. Wanna try?" as he lies down on the table in front of the kids. The kids cheer and Itchy leaps onto the table and draws a butcher knife. He makes three cuts on Scratchy's chest (drawing cries of pain from Scratchy) and pulls the two halves of his ribcage open like a pair of swinging doors, revealing the cereal inside him. Itchy pours milk over the cereal in Scratchy's opened chest, and Scratchy shivers as he says, "O-o-o-o! So cold!" The kids produce spoons and begin eating the Stabby-Oh's.
The cereal in Scratchy's chest starts to glow, and the marshmallow bits, also glowing, rise up out of the cereal as the kids name them: "Pink daggers! Green hatchets! Yellow icepicks!" Then Scratchy holds up several food items (broccoli, toast, orange juice, bacon and eggs) and says, "And Stabby-Oh's are part of this nutritious breakfast" as he starts trembling and turning pale. Scratchy barely manages to stammer out the word "breakfast" before he passes out and drops all the dishes he's holding.
The kids continue eating their Stabby-Oh's, and the girl asks, "Hey, if you guys made breakfast, where's Mom?" Off-camera, Mom's voice, which sounds muffled, says, "Here I am!" and the view shifts to show Itchy holding a covered platter. Itchy lifts the cover, revealing Mom's severed head on the platter. With the cover off, Mom's voice is now heard clearly as she adds, "But thanks to Stabby-Oh's, most of me is still in bed!"
Reactions
[
edit
]
Homer, Bart and Lisa saw the advertisement on TV. As it finished, Lisa said, "That ad campaign may have crossed a line." Homer nonchalantly said, "Ahhh, what can you do? Sex sells!" which drew dubious glances from both Lisa and Bart.
Behind the Laughter
[
edit
]
Stabby-Oh's is a parody of the breakfast cereal Lucky Charms.
Appearances
[
edit
]