Milk Duds
Wikisimpsons - The Simpsons Wiki
Milk Duds
Food/Drink Information
Milk Duds is a type of chocolate.
History
[
edit
]
When describing Jessica Lovejoy, Bart says that she's like a Milk Dud; "sweet on the outside, poison on the inside."[1]
When Homer Simpson was watching The Poke of Zorro, he went to the lobby and asked Squeaky-voiced teen to put butter onto his Milk Duds. He declined and said he wasn't meant to. Homer said that you weren't meant to go to the bathroom without washing your hands. Jeremy Freedman said touché and overflowed the Milk Duds with butter. Later he accidentally poured a lot of butter on his wife.[2]
Behind the Laughter
[
edit
]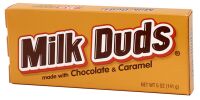 Milk Duds is a real type of chocolate.
Appearances
[
edit
]
References
[
edit
]
External links
[
edit
]