Sky
Wikisimpsons - The Simpsons Wiki
This article or section has not been edited for a while and is maybe full of out-of-date information.

Please update the information in the article or section, or discuss the issue on the talk page.
Sky is a British digital satellite television broadcasting service. Many of its channels broadcast or have broadcasted The Simpsons, perhaps most prominently Sky1, which has aired the show since 1990.
Sky Showcase
[
edit
]
Sky Showcase(Previously known as Sky one until 1st September 2021) is a British television broadcasting channel that has had the pay television rights to The Simpsons since September 1990. Sky Showcase are the first to broadcast new episodes of The Simpsons and air episodes four years before they premiere on free-to-air television on Channel 4. Their current broadcasting of the series usually consists of one episode airing at 5pm and three more airing from 6:30-8pm on weekdays, as well as several episodes on weekends, spread out throughout the day but almost always having some episodes airing in the evening, similarly to its weekday slots. New episodes tend to air on Sky Showcase on Fridays at 8pm from season 29 to 32 as previously shown on Sundays. From Season 33 a New Episode is shown on Sundays again at 6pm or later depending on the Sports coverage.. The series also very rarely airs in late-night slots; this usually consists of episodes that do not air pre-watershed (before 9pm) due to unsuitable content (such as "Weekend at Burnsie's" and "Treehouse of Horror XXVII".
Competitions
[
edit
]
During summer 1997, single broadcasts of episodes such as "Lisa the Vegetarian", "Boy-Scoutz 'n the Hood", "Homer's Triple Bypass", "Selma's Choice", "I Love Lisa", "So It's Come to This: A Simpsons Clip Show", "Marge in Chains" and "Who Shot Mr. Burns? (Part One)" gave viewers the opportunity to win a cash prize by watching the episode carefully. It is unknown what happened after the showings - presumably a screen appeared asking viewers to phone in the answer to a question.
Sky One have also run other The Simpsons competitions since, some on their website.
Simpsons Prime
[
edit
]
Beginning in 2004, The Simpsons were shown at 8pm on Fridays and Saturdays. To help promote the change, special idents were produced and shown during the timeslots. At least two have been re-discovered - unofficially titled "Explosion" and "Light Bulb".
Official world premiere episode
[
edit
]
On March 17, 2009, Sky One broadcast the season 20 episode "In the Name of the Grandfather" for the first time - five days before its first broadcast in the United States. The episode, on its showing in the United Kingdom, gathered over one million viewers, something of a rarity nowadays. Sky One has also come close to airing other episodes in a similar way, some episodes broadcasting for their first time on the channel only days after its United States premiere, an example of this being "Judge Me Tender", from 2010, which premiered on Sky One only three days after its US first-run. It has become very common that a new season gets broadcasted around January and concludes in May/June for it's full 22-episode run since season 28.
The Simpsons 20th Anniversary

[

edit

]
The 20th anniversary of The Simpsons was a big year for Sky One.
Sky One produced three behind-the-scenes-specials, or documentaries: The Simpsons: Access All Areas, The Simpsons: Mischief & Mayhem and The Simpsons: Celebrity Friends. Each aired on consecutive nights leading up to the Sky One premiere of season 21 on January 14, 2010. These documentaries were broadcast as part of the 20th anniversary and were all narrated by Ricky Gervais with interviews with cast, crew and guest stars.
Some exclusive interviews aired during advertisement breaks as well. Sky One also released an ident entitled "Slaughter is the Best Medicine" - most of which featured the comic duo Itchy and Scratchy. This ident was also broadcast on Sky Replay, with changes so a green "2" was featured instead of the blue "1".
Following the death of voice actress, Marcia Wallace on October 25, 2013, Sky One broadcast three of her 'best episodes' from 6:30pm on October 28, 2013. The episodes were as follows: "Bart the Lover", "The Ned-liest Catch" and "Ned 'n Edna's Blend Agenda".
Sky Replay
[
edit
]

Sky Replay (Previously known as Sky2 until August 27, 2020) is a British television broadcasting channel that used to broadcast episodes of The Simpsons. It is a sister channel of Sky1.
Upon the Sky re-brand in 2011, broadcasts of The Simpsons on the channel were extremely scarce.
They held a season 1 marathon on May 8, 2011; no episodes have been aired since then.
The first version of Sky Replay (named "Sky 2"), that was on air from September 1, 1996 to August 31, 1997, also aired The Simpsons.
Sky 3D is Sky's 3D broadcasting station. They broadcast The Longest Daycare on 17 February 2013.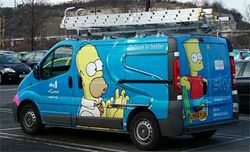 In deference to the key role The Simpsons plays in defining the Sky brand – and playing a key role in their subscriber stats – thousands of Sky engineer vans across the United Kingdom were plastered with images of the Simpson family throughout the latter half of the 2000s and early 2010s.
Gallery
[
edit
]
External links
[
edit
]