TARDIS
Wikisimpsons - The Simpsons Wiki
TARDIS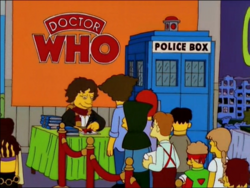 TARDIS (right)

Vehicle Information
Time And Relative Dimensions In Space, or more commonly just the TARDIS, is the iconic space ship used by The Doctor in Doctor Who.
History
[
edit
]
At the Bi-Mon-Sci-Fi-Con, Tom Baker is in costume as the fourth incarnation of the Doctor (the one he portrayed), and beside him is the TARDIS.[1]
Alfred Hitchcock exits the TARDIS.[2]
The TARDIS later reappears at another Bi-Mon-Sci-Fi-Con.[3]
Appearances
[
edit
]
References
[
edit
]