We Put the Spring in Springfield: The Music of the Simpsons
Wikisimpsons - The Simpsons Wiki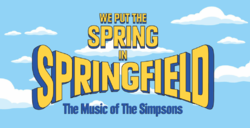 We Put the Spring in Springfield: The Music of the Simpsons is a musical tribute to The Simpsons that was performed at a one night only event at San Diego's C3 Performing Arts Center at the San Diego Comic-Con on July 20, 2013. A ticket costed $25. The musical is 69 songs that total just under 50 minutes. Some of the songs are "Baby on Board" "Oh, Streetcar!" "The Monorail Song", "See My Vest" and "We Put the Spring in Springfield."[1]
Production
[
edit
]
The idea came from Will Larche for a few years and the singer is Larche, Anthony Napoletano, Douglas Goodhart and Shannon Amiry.[2]
Reception
[
edit
]
Michael Price has said at the show is a must for the serious Simpsons fan and it's so much fun at its illegal for they has stolen their songs.[1]
External links
[
edit
]
References
[
edit
]