Skype
Wikisimpsons - The Simpsons Wiki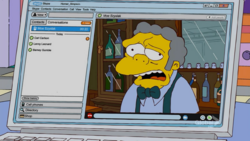 Skype is a software application that allows users to make voice calls over the Internet.
History
[
edit
]
Ned starting said Skype to Jimbo for make him stay under a bible studying.[1]
Homer did a Skype call with Moe[2]
Homer did a Skype call with Lenny when he was at Moe's.[3]
Lisa received a call from Milhouse, much to her annoyance, she answered the call. To her surprise, she seen it was Kirk, however, it was Milhouse dressed as his father. During "Kirk's" chat with Lisa, he asked if he could talk to Homer and asked if Bart could sleepover that night. Homer then stated how he didn't care. "Kirk" them tells Homer that he disapproves of his fathering to Bart, before forcing him to eat a gallon of ice-cream in just under two minutes.[4]
Behind the Laughter
[
edit
]
Skype is a real world world software application.
Appearances
[
edit
]
References
[
edit
]
External links
[
edit
]