Bite Night: The Chompion
Wikisimpsons - The Simpsons Wiki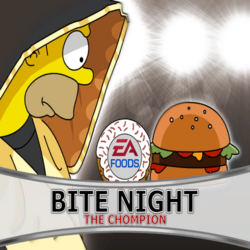 EA Food's Bite Night: The Chompion is a mini-game exclusively on the Wii version of The Simpsons Game.
Gameplay
[
edit
]
The player is Homer at an eating contest. Healty foods reduce the score. Homer and the opponent can after eating a while belch and stun their opponent. It's three round at 30 seconds, the player that has most score after the rounds win. The game has four levels, the level it's White Chocolate Rabbit, Barney, Comic Book Guy, and Akira.
Behind the Laughter
[
edit
]
It parodies EA's Fight Night series of games.
---