Sunni Smile
Wikisimpsons - The Simpsons Wiki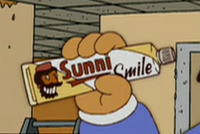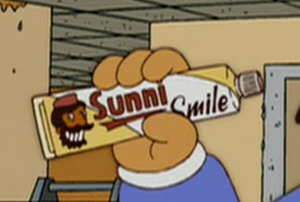 Sunni Smile is a toothache cream, presumably manufactured and sold in Persia.
History
[
edit
]
While the Simpsons wandered through a run down Springfield Mall they came across a collection of candle kiosks and Persian CD stores, in what used to be a JCPenney's. The owner of one of the CD stores attempted to sell the Simpsons the latest CD by Nabil, a Persian musician. Homer was reluctant at first, but ultimately agreed when the man offered to throw in some Sunni Smile toothache cream for free.
Behind the Laughter
[
edit
]
The Sunni Smile is a reference to Sunni Islam.
Appearances
[
edit
]
---