Diary Queen/References
Wikisimpsons - The Simpsons Wiki
Cultural references
[
edit
]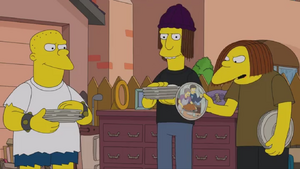 Due to the Daytona 500 race delay, the episode will air on February 21, 2021; however, the episode was released on Amazon and iTunes on February 14, but was later removed.
Chalmers' car's license plate is "Skin-ner!".
The arresting of the priest is reference to the scandal regarding priests and minors in the church.
Johnny Tightlips was reaccepted in the mafia by Fat Tony even after he betrayed him in "The Fat Blue Line".
Continuity
[
edit
]
The montage includes: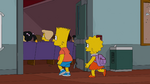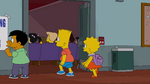 Ned and Edna holding hands with the text "Nedna forever" underneath. ("Ned 'n' Edna's Blend Agenda")
Bart writing "I will never be a teacher's pet" on the chalkboard with Edna reading a book at her desk.
Her cat taking a dead pigeon to her door.
Edna watching The Bob Newhart Show. Marcia Wallace played Carol Kester in the TV series.
Edna teaching her class.
Edna unchaining Ralph from the swing set.
Bart setting up a fake date with her at The Gilded Truffle. ("Bart the Lover")
Edna and Ned holding each other in bed, then joined by her cat. ("The Falcon and the D'ohman")
Edna changing a wheel of the Geo Metro, helped by Ned.
Bart writing on the chalkboard "We'll really miss you, Mrs. K.". ("Four Regrettings and a Funeral")
One of the kids putting up the sign for the Spelling Bee appears out of nowhere after frames where no one was present on that side of the sign.