The Man from G.R.A.M.P.A./References
Wikisimpsons - The Simpsons Wiki
705
"The Man from G.R.A.M.P.A."
Cultural references
[
edit
]
The name of the episode is a reference to the TV series The Man from U.N.C.L.E..
The MI5 room is modeled after the conference room in the film Tinker Tailor Soldier Spy.[1]
The box of Wankers Shortbread on the MI5 room table is a parody of the Scottish shortbread and biscuit manufacturer Walkers Shortbread.
According to Terrance, the Flying Hellfish were the only unit that served in the Pacific Theatre, the European Theatre "and Grauman's Chinese Theatre", referring to the iconic theater on Hollywood Boulevard.
The cloud raining on Grampa, no one else, may be a reference to Fantozzi's cloud, a rain cloud that follows him frequently in the Fantozzi series of movies.
Terrance read Eat, Pray, Love by Elizabeth Gilbert.
The old people at the Retirement Castle watch The Third Man movie, with footage from the actual film. Several homages to the movie are made throughout the episode.[2]
At Moe's, Terrance mentions, and the barflies sing, "It's a Long Way to Tipperary" by Jack Judge.
Homer says that Grampa thinks that "The Star-Spangled Banner" is impossible to sing.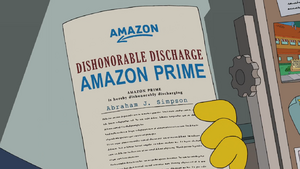 Bart only has one short line on this episode.
Continuity
[
edit
]
References
[
edit
]