Diary Queen/Gags
Wikisimpsons - The Simpsons Wiki
Title screen gag
[
edit
]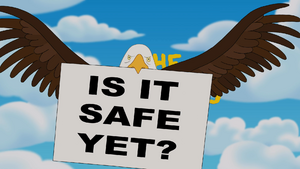 Squawky flies toward the screen with a sign saying "Is it safe yet?"
Chalkboard gag
[
edit
]
The chalkboard gag appears during the ending montage in memory of Edna Krabappel and Marcia Wallace.
Couch gag
[
edit
]
Mars Couch Gag
Couch Gag Information
The couch is on Martian soil and gets crashed by an UFO. Marge and Maggie come out of the UFO, while Homer, Lisa (on a hover bike) and Bart (on his skateboard) come on foot. However, Homer has no space helmet, which Marge asks on where it is, and Homer's head explode, with his mouth shouting D'oh.
Appearances
[
edit
]
---