Maggie Simpson book series
Wikisimpsons - The Simpsons Wiki
The Maggie Simpson book series is a series of educational children's books, the only The Simpsons educational book series to date, written by Matt Groening and Maggie Groening, focusing on Maggie Simpson.
Reed Business Information, Inc. released this description of the book series in 1991: Maggie, the youngest Simpson sibling (best known for her ever-present pacifier), makes a highly successful and often hilarious transition to print. These concept books feature simple, clean design; bright, bold colors; humorous and visually inviting illustrations. Familiarity with the Simpsons is a definite plus here, as references to personalities and situations from the TV show abound. Not just for preschoolers, the books have such broad appeal that older siblings—and even parents—may squabble over who gets to look at them first. Purists may quibble that one can't actually count the 1000 ants or suggest that four-year-olds might not associate "mambo" with "M," but such sticklers would doubtless not gravitate toward these books in the first place. Simpsons fans will, and in numbers.
The following information has been gathered through item listings of the books on some Amazon sizes, and may be a mixture of true and false information posted on the sites.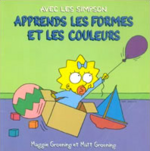 The United States books were published in September 1991 by HarperCollins Publishers; Colours and Shapes, Animals and Alphabet being released on September 12, 1991, Counting, also known as Numbers, being released on September 19, 1991; all four books were released on the latter date in the United Kingdom by Carnival, the books, at least Colours and Shapes going out of print on July 15, 1993. That year, on September 24, 1991, at least for all three books apart from Alphabet, Canal Plus published French versions of the books, and were published again in September 1992 by Albin Michel. The Spanish books were released the following July, by Ediciones B, Sagebrush Education Resources and Grupo Zeta each publishing three of the books, Alphabet being omitted, presumably because the book would have to be entirely redesigned to change the words over; these books contained 27 pages, unlike the 32 pages in the other language versions of the books. Ediciones B released Colors and Shapes and Animals a second time on July 1, 1998 and June 18, 1999 respectively, these editions containing 32 pages like the other language versions. The Portuguese books were published by Gradiva three months before.
United States
United Kingdom
France
Spain
Portugal
Maggie Simpson's Book of Animals
Apprends a Connaitre Les Animaux Avec Les Simpson
El Libro de los Animales de Maggie Simpson
O Livro dos Animals de Maggie Simpson
Maggie Simpson's Counting Book
Apprends a Compter Avec Les Simpson
El Libro de los Números de Maggie Simpson
Aprende a Contar com Maggie Simpson
Maggie Simpson's Book of Colors and Shapes
Apprends les Formes et les Couleurs Avec Les Simpson
El Libro de las Formas y los Colores de Maggie Simpson
Aprende as Cores e as Formas com Maggie Simpson
Maggie Simpson's Alphabet Book
Apprends l'Alphabet Avec Les Simpson
No book released
possibly titled El Libro de alfabeto de Maggie Simpson if released
Aprende as Letras com Maggie Simpson
External links
[
edit
]